Get step by step instructions on how to create this gorgeous handmade rose card!
This handmade rose card from Natasha is just so stunning and we have to admit, the sentiment gave us eye prickles thinking about how deeply touched someone would be to receive this in the mail. Natasha used the stamp set alone from our Someone Like You pair and we are thrilled that she showed how drop dead gorgeous these images are on their own.
Natasha said "I was so excited for the Someone Like you set. I truly love to watercolor and these large blooms are a dream to color!" Well, we can SEE that she loves to color and we are psyched that she's sharing her talents with us today so we can try this out, too!
Start by making a mask for the flower. Stamp it onto some masking paper or a large Post-It note and fussy cut around it. PRO TIP: Save your masks in the cases with your stamp sets so you can reuse them.
Now stamp that luscious large bloom onto watercolor card stock in Versafine Black ink and then heat emboss with clear powder. This helps keep the medium contained and lets you ensure those beautiful crisp edges. Use your mask to "layer" the flower around your card, letting the flowers hang off the edge.
To color the flowers, Natasha used her Karin markers. You can use whatever watercolor medium you like best; just follow her method for building color and you will love the results!
Natasha taped her stamped panel to a work surface to help prevent any warping and colored in her layers. Start with the lightest shade and color anywhere the light will be hitting the flowers and leaves and where the area will be closest to the viewer. Allow this layer to dry.
Next, go back and add your next darkest shade. Blend it into the light areas, leaving enough of the first color to add the highlights you envision. Let this dry.
Repeat with each shade you want to use, ending with your darkest color in just the deepest shadows and in the areas that are farthest from the viewer.
When you flowers are all colored up, add the blue shadows around them. Natasha used her markers and also some Dreamer Color Fuse Ink from Set #9. She swiped the Dreamer cube onto a glass mat, added a little water and used it as paint. And now that we have the reinkers, you can also add a couple of drops, mix and go!
When your panel is completely dry, cut it with the largest of the dies in our Nested Rectangle set. Splatter the surface with some gold metallic watercolor to add just a touch of reflection.
While that dries, use our You Script With Shadow to cut the shadow portion once from a scrap of white card stock and the script portion three times from black scraps. Adhere the black die cuts together with liquid glue to make a nice thick element and then adhere that to the shadow. Stamp the sentiment onto another scrap of white card stock and trim it down to a close rectangle.
Adhere your panel onto a card base and add your word die cut and sentiment with some dimensional adhesive. Imagine the look on the face of the person you send this to and be so happy!
We adore the combination of the peach and purple shades and the addition of those crystalline blue shadows around them really makes those dazzling roses float.
Here's what Natasha use from our store today so you can make this same handmade rose card at home: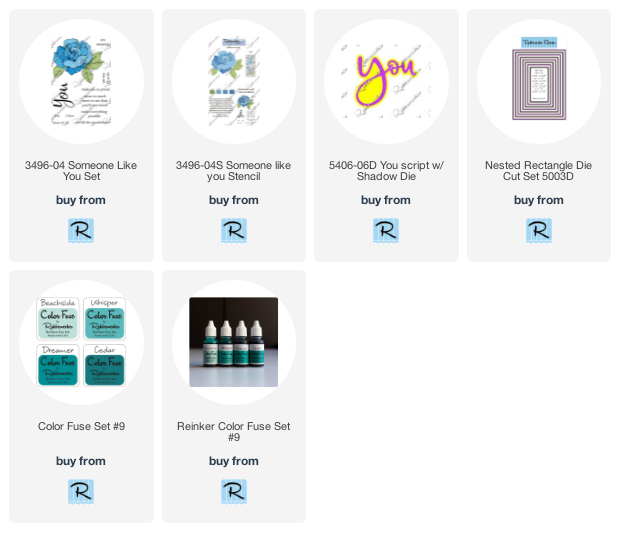 We are ten thousand percent sure this isn't the first handmade rose card you've seen but we are pretty sure this is one you will remember! Make sure you bookmark it or Pin it to your favorites board so you can have it handy for inspiration!