Check out two fun ways on how to add texture to cardstock for extra impact.
Today Jean is showing us how to add texture to cardstock in two ways that are easy and fun and endlessly versatile. Combined with her layering her die cut pots and plants, you really feel like you are walking past a colorful wall in, say, an upscale coffee shop.
Let's get into the details so we can try these techniques out!
Start by stamping the sentiment from our Just Saying Hello onto a card sized panel of white card stock with VersaFine Black Onyx ink. Place our Repeating Bricks stencil over your panel and, using a piece of washi tape or low-tack narrow tape, cover the stencil over the sentiment. PRO TIP: You may want to use a little more tape to stick down your stencil to keep your open space around your sentiment nice and crisp.
This tape over your sentiment will create a mask that will prevent the sentiment from disappearing and provide a nice open space in which it can sit – like a reverse spotlight! So not only will you have that lovely texture from the surface of the bricks, but the tactile texture combined with that sentiment receding into the scene adds a LOT of depth without a lot of thickness.
Apply white embossing paste evenly over the stencil. Remove the stencil and wash it right away to keep the past from becoming a permanent "feature"! Set your panel aside to dry.
For the second cool textural element, make some realistic planter pots! Using a VersaMark pad, dab embossing ink onto scraps of white card stock and heat emboss those areas with a variety of colors of embossing powder. Jean used some Distress Glaze for this application and we love the finish!
Normally, when you are heat embossing you look for an even, "perfect" finish. In this case, any irregularities in the finish will only add to the final look so don't feel like you have to reink and re-emboss. Unless, of course, that's a look you are going for! You want to end up with enough of this heat embossed card stock to cut all your pots so keep track of how many you want on your card, what colors and what size swatches you will need.
Now cut all your gorgeous swatches with our Vases and Shelves, Tall Terracotta Pot, and Wide Terracotta Pot dies.
For some bonus texture, use the shelf portion of our Vases and Shelves die to cut some woodgrain card stock. Adhere your pots to your shelves; Jean used tiny pieces of tape on the back sides.
Using some green card stock or, as Jean did, ink up some white card stock your favorite shade of Color Fuse Ink, and use our Leaves and Greenery die to cut some foliage. Using tiny dabs of liquid glue, add these to your pots. Now adhere your pot-filled shelves to your brick wall.
Using our Small Flowers #4 and Tiny Flowers #2 dies, cut some flowers from yellow, red and purple card stock (or, of course, inked card stock you've created with our gorgeous Color Fuse Inks). Adhere these tiny flowers to your pots and add enamel dots to their centers.
Adhere your brick panel to a white card base and be sure to fully admire your card!
Here are our goodies from our store that Jean used today: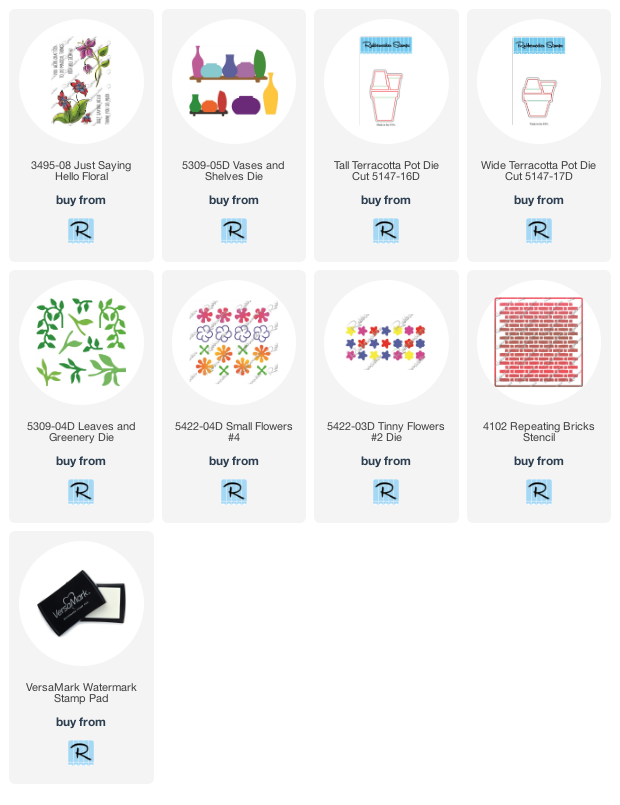 Now you've got two fun ways on how to add texture to cardstock that you can use for lots of different designs. Sometimes it's something as simple as a stencil or some heat embossing that can make all the difference in how rich and lavish a scene can look and this card shows that off perfectly!