You won't believe what our designer used to make this handmade snowy card background!
You can practically hear and smell the snow when you look at this beautiful handmade snowy card background on this project! Our designer stenciled the winter winds blowing the beautiful snow with glittery gel and embossing powders for the effect.
But wait – we don't sell a "winter winds" stencil! Oh, but we DO when you see our Wavy Stencil through Carol's eyes! Who knew a stencil created for watery effects could stand in for swirling puffs of wind? Carol did! Let's take a closer look.
For this spectacular snowy background, Carol cut a piece of light blue card stock to 4″ x 5 ¼" and laid over it our Wavy Stencil sprayed with Pixie Spray. She then spread some white glitter gel over the stencil with a pallet knife for a smooth, even layer. When she'd filled in all the little corners and edges – another reason that Pixie Spray is so helpful – she peeled off the stencil and immediately washed off the gel before it got good and stuck to her stencil. She set her gorgeous winter background aside to dry thoroughly.
While that was drying, Carol created her focal images. She stamped trees from our Pine Tree set with Versamark ink and heat embossed them with a variety of glittery embossing powders from her stash. She then fussy cut out the trees with her favorite paper snips.
To build up her scene, Carol took some scraps of about 4″ wide white card stock and using her same, sharp scissors, cut a curvy edge on both, layering them together to make her gentle knolls. (You can use any of these dies to do the same if you aren't a fan of freehand cutting.)
Once her snowy card background was completely dry, she adhered it to her card base with her tape runner. She adhered her hills with more tape and then added her trees with varying thicknesses of dimensional adhesive.
To finish it off, Carol stamped the sentiment from the same Pine Tree set with black ink on a scrap of white card stock, fussy cut around it and popped it over the swirling snow with more foam tape.
All that dimension just added to the feel of the winds swirling around and adds so much visual interest with almost no extra effort!
Here's what you will want to get out onto your craft table or add to your cart to make this card that you can send all winter long: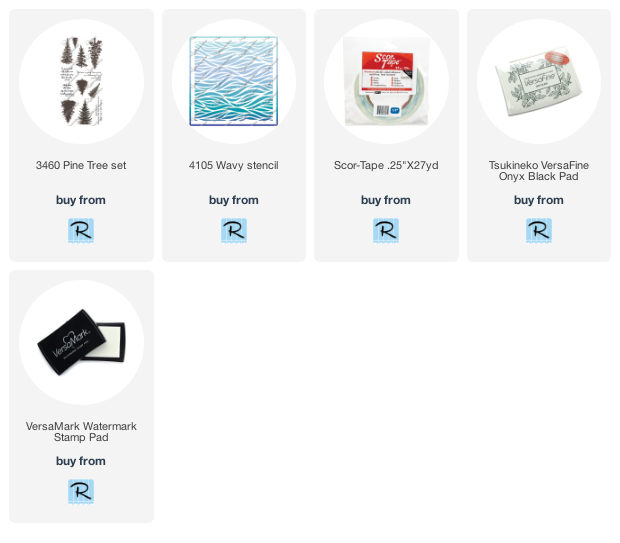 We are just gaga over this handmade snowy card background and are so impressed that Carol saw puffs of wintry winds in our stencil created for watery waves. Doesn't this make you want to go back and look at ALL our stencils to see what other ways they can be used? Race ya!