Take a look at how heat embossing on acetate takes this to a new level!
Ok – raise your hand if you knew how awesome heat embossing on acetate looks! This is such a fun and unexpected look and we cannot WAIT to try it out with some of our other background stamps! Let's make one along with Carol, shall we?
Before we begin, it is VERY IMPORTANT that you use only heat resistant acetate for this technique. Regular acetate will melt and could burn you! You can get it on Amazon or in craft stores and make sure it is labeled "heat resistant"! If you don't have any and you just have to try this out right now, vellum makes a good, if slightly different looking, substitute.
OK, so to start you will want to use your favorite ink blending tool and use Rose, Bubblegum and Fuschia Color Fuse Inks from Set #5 to create an ombre pattern on your white card stock panel.
Cut a piece of your heat resistant acetate to 4 1/4″ X 6″- you need that extra length – and pat your anti-static tool generously over the stamping surface. Do NOT skip this step – acetate holds onto everything and you don't want to ruin the look you will get with this technique with random strays!
Stamp our Wavy Vertical Lines background onto the heat resistant acetate with Versmark ink. BEFORE you sprinkle your powder, turn on your heat tool. This is important because you want to minimize the amount of time you will be directing heat over the acetate. Sprinkle your choice of embossing powder – Carol used a fabulous silver – over the stamped area making sure to cover all the ink.
Now heat it all up! A couple of helpful tips – keep your tool moving! While this acetate is heat resistant it isn't not heat PROOF and the nature of the product makes it prone to warping if concentrated heat is applied too long in one spot. Also, hold the tool only as close to the surface as you need to in order to get the melting going. The further away the tool is from the acetate, the more diffuse the heat is and the less likely it is that one area will pucker. That said, Carol claims there are some ripples in this project and we don't see anything that isn't gorgeous so there's that!
When the piece is completely heat embossed and cool, score the acetate at each of the short ends at the 1/2″ mark. Fold over and press down with your bone folder to make a nice sharp crease.
Add some strong adhesive tape like Scor-Tape to the back of your ombre panel at the short ends. Slide the acetate panel over the ombre panel and peel off the backing of the TOP ONLY and adhere the acetate to the inked card stock.
Now let's make the floral elements! Stamp the first layer of the flowers from our Field of Daisies with Rose Color Fuse ink. Carol mentioned to use that she just loves the layering guides that we include with our clear layered floral stamps – thank you, Carol!
Stamp the second layers with Bubblegum, the third layers with Fuchsia and then the centers with Lemon Color Fuse. While you are stamping, create the leaves with Color Fuse Set #10, using Mist for the first layer and Clover for the second. Cut everything out with the coordinating dies.
Now make the greeting pieces. Carol inked up a scrap of white card stock with Bubblegum Color Fuse to get a perfect coordination of shades – give it a try! (Note – she added extra ink to get a bit of a deeper shade.) Cut that with the top layer of our new Happy Script with Shadow die once. Now cut white card stock scraps three times with the detail layer and once with the shadow. Adhere all the detail layers together (obviously with the pink on top – lol) and then pop those onto the shadow, using liquid glue for the whole piece. This adds a TON of dimension and fun shadow!
Also stamp "BIRTHDAY" from our Build a Phrase #1 in black on a scrap of white card stock and trim down into a crisp, right rectangle.
Now let's build it all out! Add your flowers and leaves to the card front using a variety of dimensional adhesive and either tape or liquid glue, building up your dimension in the way you like. Adhere your greeting pieces to the card. Carol added some foam tape at one end and liquid glue at the other to span the different thicknesses and still keep the greeting level.
When you've got your whole front all set the way you like, lift up the acetate panel and add some more strong tape behind the flowers for more stability. Peel off the backing and set it in place. Now you can peel off the bottom strip on the back of the inked panel and give it a good press. Add the whole assembly to a card base with adhesive tape.
Isn't this just SUCH a fun project? Here are the things Carol used today to make this card and share this fabulous background technique with us: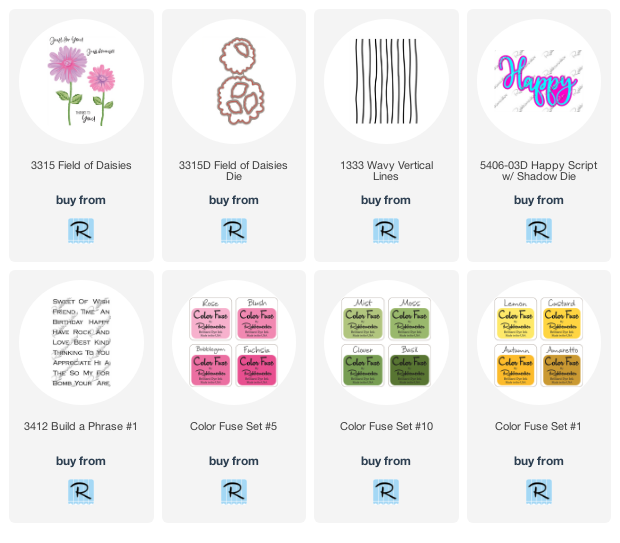 We love this way of heat embossing on acetate to create super fun card backgrounds. We hope you give this a try!