Check out this trendy slimline pale turquoise and pink handmade greeting card – SO pretty!
We love trendy color combinations and this turquoise and pink handmade greeting card nails it! The fact that it's a slimline card means that there is that much more fabulous color to enjoy! And this is one of those cards that, other than the coloring, is super quick and oh-so-easy. Let's face it, lots of us got hooked on new TV shows during our cloistering this past year and we have to keep up, right? What better way to make good use of that time than having a delicious stack of stamped images just begging to be colored while we watch? At least that's how we are justifying it – lol!
Let's check out how Renee put this together for us today. First she stamped our Slimline Birthday background stamp onto a nice weight of white card stock in an alcohol ink friendly black. Then she used her favorite alcohol markers – here, Spectrum Noir TriBlends – to color in all those deliciously entwined images. Using these markers helped her stay within that lovely color combination of pale turquoise and vibrant pink.
To get the nice clean lines and to add a little detail, Renee cut her colored panel out with one of our Slimline Nested Stitch dies and added two lengths of coordinating trim to make the colored panel look like a wrapped gift. After adding the bow, Renee layered this over a black, card sized panel for some crisp contrast. She added this to a slimline card base with adhesive tape.
For the sentiment, Renee stamped in black on more white card stock and cut it out with the coordinating die. She added this to the card front layered over the ribbon using some foam tape.
Voila! Easy and quick card for someone special that gave Renee some "quality coloring time"! Win-win!
Here are the things from our store that Renee used today: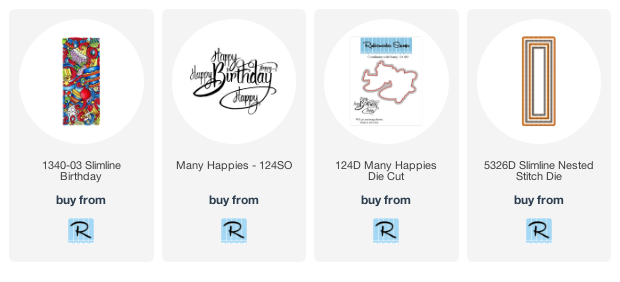 This pretty turquoise and pink handmade greeting card is totally on trend with this sweet and modern color combination and makes a perfect birthday card for just about anyone. Try your own color combos and have fun catching up on your binge viewing while you are being craftily productive!