Even if you are a beginner, today's tips will show you how to paint simple watercolor cards that are just stunning!
Today Melinda – one of our expert Design Team members with a real eye for watercoloring – is sharing her tips for how to paint simple watercolor cards. Once you get these basic techniques down, you will be able to create cards hand painted by you that will all be your own little miniature works of art!
Melinda says "I am always inspired by the beauty around me. This card was what first came to mind when I saw the slimline film strip die. Watercolor is so relaxing and it always takes me to a happy place." Hopefully after you practice what she shares today, you will feel the same way.

Melinda says "This card would be great using Kittie's beautiful paper pad, but I didn't have it yet and had to color my own." She adds "Be brave, you can do this!" Let's get all of Melinda's expert advice for making this card and then you can riff with what you learn on your own projects.
Started with a piece of watercolor paper cut to 8 1/2 X 3 1/2 it will get cut down so you don't have to be super accurate. Wet the top third of the paper longwise and add a touch of blue. If you add too much color and or water dab away some.
After the sky is dry add a green mountain. Use lots of water for this layer – you want it to be light in color. After that is dry add another mountain. For this layer don't add as much water to make it darker. Let your first paint line show you where to add the new lines.
As you make the next mountain shape make sure your brush is only half loaded with water and pigment. Do a long stroke and let the brush run dry leaving white spaces. This is called the dry brush technique. This provides that beautiful, spotty, streaky look that adds an organic look to scenes like this.
After the entire panel is dry add little dots here and there in the white spaces for a wildflowers. You can see where I've added these in purple and rose. Start with less and build depth with darker, less watered down shades. Less is more and while you can always add in more, removing elements can be tricky. You can also paint a few birds with a black pen or paint brush. Simply make two arches that connect in the center using a very fine brush. PRO TIP: If you aren't completely confident in your fine line ability, you can use the brush end of a marker.

Here is everything all together.
Now add some trees using Rubbernecker's Pine Tree stamp set by painting some water color onto them. Don't worry about exact color placement – for today's look, the randomness of the coloring adds to the beauty of the final results. Apply your watercolors to the stamps with a small brush.
Than just stamp these watercolored stamps as you would if you were using ink. Alternatively you could just use ink if you prefer that look. There are no rules!
For another watercolor look loaded with texture and dimension, take a piece of scrap paper and smoosh your favorite shade of green Color Fuse ink onto a glass mat or slick surface and spray lightly with water. Now smoosh a scrap of white card stock into the watery ink. Set this aside and let it dry thoroughly.
When the paper is totally dry – remember, dry paper cuts cleanly, damp paper cuts with fuzzy edges – use Rubbernecker's Evergreen Tree Die set to cut a tree/trees from your custom green watercolor paper.
While you are die cutting, cut the Rubbernecker's Slimline Filmstrip die from black card stock. Trim your watercolored background panel now, too, to fit your slimline card base. PRO TIP: Move your black filmstrip die cut around over the background to decide exactly which of your painted elements you want to show (or hide) and trim accordingly.
Adhere the black filmstrip frame over the background panel using your tape runner. Add your sentiment wherever you think it looks best.
Add your die cut evergreen tree with a piece of thin foam tape for a last pop of dimension and then admire your watercolor painting!
Gorgeous, right? We trust Melinda when she says we can ALL do this!
Here are the things Melinda used today (note that the incorrect Paper Pad is listed but check it out because it's SO CUTE!):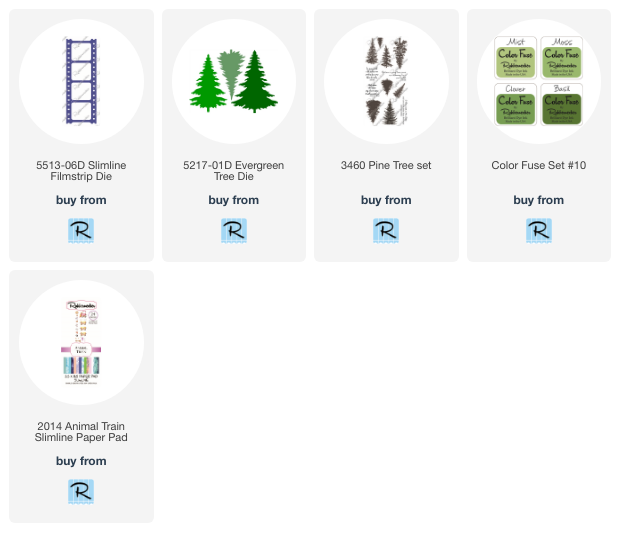 For more awesome summer goodness, be sure to check out our May 2023 New Release items!

And remember, we want you to be able to get only what you want and not have to choose between saving on new goodies or getting a bundle that isn't 100% what YOU want. So until midnight CST May 18th, you will get 15% off new items.

So get on over there and check them out!
OK, now you've got some tips on how to paint simple watercolor cards – are you game to try? We would LOVE it if you shared your own results on our Facebook page! People love to see what others are up to and get inspired by everyone's own take on what we share. Don't be shy!