Today we get to see the magical results that come with using Pops of Color with stencils – easy, fun and FABULOUS!
OOh – we are SO excited to share today's super fun summery card with you! Ricky is giving us a peek at how using Pops of Color with stencils creates the coolest look!
If you haven't heard of Pops of Color, they are a liquid embellishment similar to enamel dots, available from Scrapbook dot com. You can use your favorite liquid embellishment for this technique and we are guessing it will be JUST as gorgeous!
Let's get Ricky's steps for the making of this card so we can try it too!
Ricky started by taping our Vined Leaves stencil down over a piece of white card stock. He used his Pops of Color in watery shades and added drops here and there on the stencil.
Here you can see how liquid these drops are – they are almost like liquid embossing paste! We recommend you try out what you have on hand and see if you get the same results.
Ricky spread these all over the card stock through the stencil until the entire panel was covered. PRO TIP 1: Don't worry about any streaking or dappling; that will only accentuate the beautiful finished look. PRO TIP 2: Rinse your stencil immediately after applying any medium. Ricky says "Sometimes these things can become like concrete on your stencil!" You don't want that to happen – you will lose all the fine details!
Ricky set that aside to dry and then chose various shades of coordinating blues and greens from his card stock and vellum scrap stash. Using our Sea Kelp die, Ricky "cut a bunch of those babies out". (LOL) Ricky tucked any extras into the packaging of the die to save for a future project.
Now he shopped his card stock stash for tropical fish colors and using our Tropical Fish die, cut out all kinds of combinations. He assembled the fish with dabs of liquid glue, using the packaging as a guide for all the delightful little details.
For his sentiment, Ricky took a scrap strip of black card stock and stamped a phrase from our Kittie Says Summer set with Versamark and heat embossed it with white powder. He trimmed it close and set it aside while he built his card.
Ricky trimmed his stenciled panel to 4″ X 5 1/4″. He then adhered his kelp pieces all around the card, trimming off any excess from the edges. He adhered this to a white card base.
Ricky finished this spectacular summery sample by popping on his fish and sentiment with some foam adhesive for some extra texture and dimension. Fabulous!
Here are the things Ricky used today: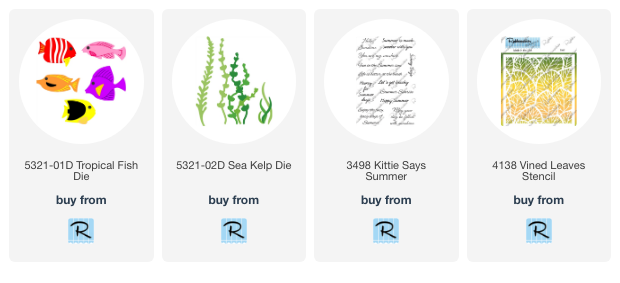 For more awesome summer goodness, be sure to check out our May 2023 New Release items!

And remember, we want you to be able to get only what you want and not have to choose between saving on new goodies or getting a bundle that isn't 100% what YOU want. So until midnight CST May 18th, you will get 15% off new items.

So get on over there and check them out!
We are excited to have learning these tips for using Pops of Color with stencils – we can't wait to try out all the liquid embellishments we have in our stash! Just remember to wash that stencil right away and have a blast experimenting!