Learn how to shade using white colored pencils on a tone on tone design.
Today Annie is showing us an absolutely beautiful way on how to shade using white colored pencils on a monochromatic design and we are practically swooning! Who knew that just a touch of white on a tone on tone design could be so impactful!
Annie said "There are times when a stamp is so beautiful, that I just want to let the image speak for itself. Here I've done very simple coloring with only two shades of colored pencils for a quick and easy mini slimline friendship card." Seriously, who would be so touched to receive this in the mail?
Want to stamp along?
Begin by using our Mini Slimline Tabbed Scallop Stitch Die set to cut a piece of yellow card stock. Stamp both of the daisy bouquets from our Daisies Are stamp set with Amaretto Color Fuse Ink from Set #1 across the bottom of the panel. Alternate the images and stagger the height of the tops of the flowers to create a pretty field.
PRO TIP: Annie added some whimsy with tiny dots grouped around the stem ends by dipping the tip of a small ball stylus from our Paper Blossom Tool Kit into the Amaretto ink and pressed it onto her card front just like a stamp. Cool idea!
Now, use your white colored pencil to add details to the centers of the petals and anywhere else on your image where they would be in the light. This kind of "reverse shading" lets the details stand out without having to add shadows around a fine detail image like these daisies. Use a yellow pencil as close to the color of the Amaretto ink (or whatever color story YOU choose) to color the centers of the flowers to give those white details even more pop. PRO TIP: keep the tips of your pencils very sharp while coloring to prevent coloring over and blurring any of the stamped details.
Stamp your choice of sentiment – Annie chose one from our Happy Birthday Balloons set onto a scrap of navy blue card stock with Versamark Ink and heat emboss with white powder. Trim this into a close rectangle.
Adhere your pretty monochromatic panel to a white mini slimline card base with dimensional adhesive and then pop your sentiment on the front with the same adhesive and your beautiful card is done!
This card is SO pretty and we can even see it in so many other colors! Picture a deep rose or a periwinkle and even a gorgeous velvety purple! Try this with your personal favorite Color Fuse Ink Set!
Here are the items from the store that Annie used today: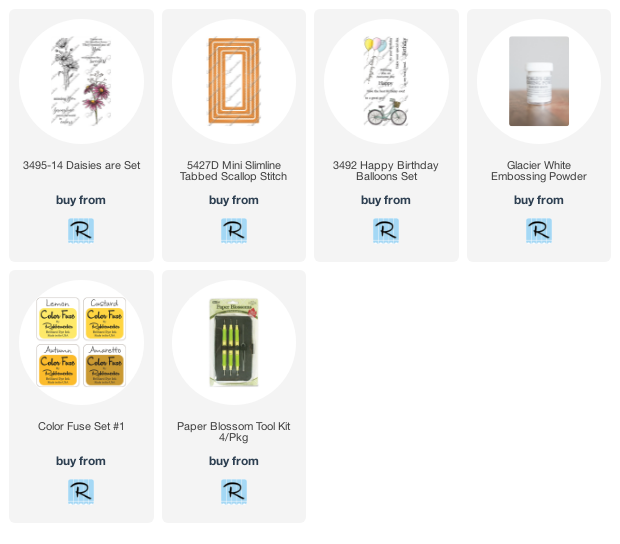 Knowing how to shade using white colored pencils to add highlights instead of coloring in shadows lets you turn something very simple into something seriously stunning!