Use silhouette stamping with reverse masking to create gorgeous, easy focal elements on your handmade cards!
Silhouette stamping with reverse masking isn't a new thing but we don't see it done often and it's a shame. Because just LOOK at this beautiful card! Our Color Fuse Ink is perfect for this technique – we specifically formulated it to blend easily and beautifully and with reverse masking, those qualities are absolutely essential for results like these. Colleen created this for us and she's sharing all her insider tips.
Start by cutting a piece of white card stock to 5 " X 3 ¾" and a scrap piece of card stock to the same size to serve as your mask. Use your choice of size of circle die to cut your reverse mask in the center of the card side to side and slightly higher from the center point to leave room for your sentiment.
PRO TIP: use some low-tack tape (or some of that ugly washi tape you have hanging around) to adhere your reverse mask over your white card stock panel.
Colleen chose the warm shades from Color Fuse Set #2, so that's what these instructions will share. You can, of course, use whatever colors you choose so just adapt your application process to those.
Using your favorite ink applicators and blend Citrus, Apricot and Pumpkin Color Fuse inks through the reverse mask, with the lightest at the top to the darkest at the bottom to create a softly blended ombre effect.
Now with a fine mister, spray a soft mist over the ink to create water "stains", blotting any excess water with a paper towel. This combined with the next step will add a beautiful visual texture.
Apply our Leaf Stencil over the reverse masked area and lightly ink over the stencil with Citrus Color Fuse ink, JUST until the leaf pattern emerges. This will ensure that your beautiful ombre and water splatters don't disappear but will still let there be that hint of an organic pattern show. Remove your mask and discard.
For this next step you will want to use a stamp positioner to ensure you get even coverage with your stamping. Stamp our Thank You Daisy flower in black ink over your inked area, repeating as necessary to get that crisp look. PRO TIP: This card has a sentiment strip over the area where any accidental black inking might appear. If you are using this technique on a project where you would NOT be covering an oops, leave the mask in place.
Use our Inside Scallop Frame die to cut a card front sized piece of black card stock and adhere this to a white card base. Now center your beautiful stamped panel to the center of your card.
Stamp the sentiment from the same stamp set onto a white scrap strip of card stock and trim it down around the words. Adhere this to a scrap strip of black card stock and trim that down to add a slim border, ensuring the width is the same as your card. Adhere this element on the card with some dimensional adhesive slightly overlapping the inked area to add that visual continuity.
For a final bit of light reflection, add Glossy Accents over the centers of the daisies.
Isn't this just so gorgeous? Colleen said she was envisioning a moon style silhouette and we can see this same design being done in just about any color combination and have it be just as stunning.
Here's what Colleen used today to make this for us: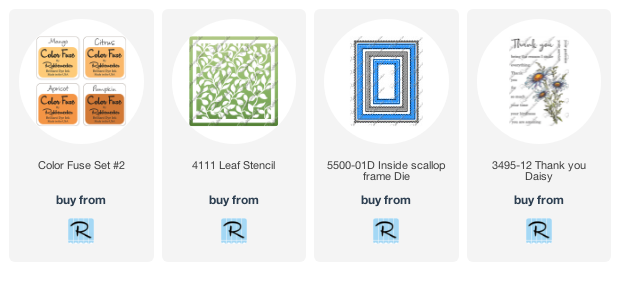 We love seeing classic techniques featured using our products. This example of simple silhouette stamping with reverse masking to create a rich, captivating background makes our hearts sing!