Let's check out how to stencil a mini slimline card with a regular slimline stencil!
We were beyond excited to see Melinda share this card where she shows how to stencil a mini slimline card with one of our standard sized slimline stencils. Yes, it's fun to have products that are specific to the type of project you are making. But you can get SO MUCH MORE out of your products when you see ways to adapt your existing supplies to new shapes and sizes of cards.
Melinda spotted this possibility right away with our Slimline Birch Tree Stencil when she saw that our baked in design of the trees getting smaller as they got taller provided her with the scale to add them to a mini slimline card. By using the top portion of the two stencils in the set, she was able to add this gorgeous look to a smaller card. Let's check out all her creative details!
First, she created her card base. Mini slimline cards are 3 ¼" by 6 ¼" so you want to cut your card stock to 6 ¼" X 6 ½" and score on the (slightly) longer side at 3 ¼", fold and crease with a bone folder for that nice sharp edge.
Next, she cut her layer to stencil on to 6″ X 3" to leave a little border around the edge. She taped down this panel (use that ugly washi tape you hate but can't bring yourself to put in the bin) and then laid the base layer of our Slimline Birch Tree stencil over this, using the top edge of the stencil at the top of her panel and taped that down, too, to prevent any shifting.
Melinda blended her sun into the background using Lemon Color Fuse Ink from Set #1. Then she added her blue sky using inks from Color Fuse Set #7, starting with Sky, making sure not to go over the sun so as to prevent a green tinge. She then added Odyssey leaving the lighter Sky in the center, and added some Azure around the very edges and to the corners.
She then removed the first layer of the tree stencil, lined up the second layer – taping it down – and using Chill Color Fuse Ink from Set #12, added the fabulous details that make these trees unmistakably Birch.
Then Natasha stamped her little friend from our Christmas Gnomes set, colored him in with her alcohol markers and cut him out with our coordinating die. While she had her die cutting machine out, she cut a scrap of white card stock with our Slimline Grass die, leaving it white, but adding shadows with some cool grey tones from her alcohol markers. She then popped this onto the bottom of her panel with some foam squares. She also stamped her sign and sentiment combination onto a scrap of white card stock and colored that up, too, with her alcohol markers, cutting it out with the die.
Now she put everything together. She adhered her stenciled panel to her mini slimline card base with her tape runner and adhered her gnome and his little greeting to the front with foam squares with a touch of liquid glue under his feet to keep him steady.
Can you EVEN? Here are the goodies Melinda used today to tickle us with this cute card!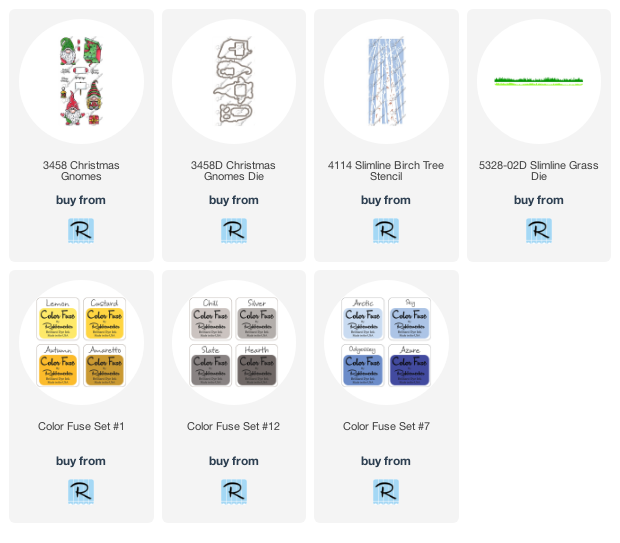 We hope this helps you think of other ways you can extend the use of all your supplies and use this tip for how to stencil a mini slimline card with a full sized stencil on other projects as well!