See how to stencil with glitter paste over a gorgeous ombre background – another twofer!
We mentioned that we see stencils making quite a comeback in the card making world and with this fun lesson on how to stencil with glitter paste from Carol, we can see why!
There are so many fun ways beyond the basics to use stencils and this idea is a total keeper! Let's take a look at how to make this super sparkly, fun background and how Carol got two projects out of one stencil session.
First Carol made her background by placing her stencil over a 6″ X 6″ piece of white card stock. PRO TIP: we talked yesterday about making sure your stencils are firmly fixed in place to get the best results and while Kittie chose to use magnets, Carol uses Pixie Spray which is a temporary adhesive that will hold everything down.
Carol used all four colors of Color Fuse Set #9 to apply an ombre using her blending brushes. You will see how perfectly blended these colors look because we refined each Color Fuse set to work together for this and other color story applications. After finishing up her inking, Carol left the stencil in place.
She then used a pallet knife to apply glitter paste over the whole stencil and then spread it as evenly as possible over the whole stencil with a wide pallet tool to aid with getting that even layer. She carefully removed her stencil and set her panel aside to dry completely. She washed her stencil and tools immediately because that glitter paste likes to hang around! Good for your cards – not so good for your tools!
Once it was dry Carol cut this out with our Nested Rectangle die being sure to cut it out off center so she had an extra strip to use for her second card. This is one of the reasons we mentioned here as to why we chose a larger than card front size for our stencils – more bang for your crafting efforts!
Carol adhered her larger die cut piece to her card base and got started on her fun elements. She stamped her images from our Under the Sea #2 set with a no-line ink that is Copic safe, colored them in with her Copics, added some details like eyes, mouths and texture on her fishies with a fine tip black pen and then cut them all out with the coordinating dies. She also stamped her sentiment with black ink on a scrap of white card stock and then trimmed it closely.
Now she built her card by adding her elements and greeting using foam tape and liquid glue. Isn't it just so gorgeous and fun at the same time?
Now, because Carol had that extra strip of glittered waves, she made a bonus card with it to share with us!
Did you know that you can emboss with stencils? Oh yes you can – at least with ours! (Some of the lighter weight stencils won't yield results as good as these hence our choice of material.) Consult the instructions for your particular die cutting machine for the proper sandwich for this technique because each is different. Carol dry embossed a card sized piece of white card stock with the same stencil. PRO TIP: Adding a detailed element over a tone on tone element done with the same textural application adds a ton of visual interest and is an easy, one-step way to take your cards up a notch!
Carol trimmed her leftover glitter stenciled strip and layered it over a strip of teal card stock. She added that to her dry embossed panel with adhesive tape and then added the panel to her cardfront.
She stamped her elements in Copic safe black ink, colored with her Copics and cut them out with those super handy coordinating dies. At the same time she stamped her greeting and layered it over a scrap of the same teal card stock. She added them to her panel with dimensional adhesive. Then she used a ruler and a black marker to create her fishing line from the greeting to where she wanted her little worm and added him with some liquid glue. What a FUN tongue in cheek way to send someone some love!
Here are the goodies from the store you will want to have on hand to reproduce these projects: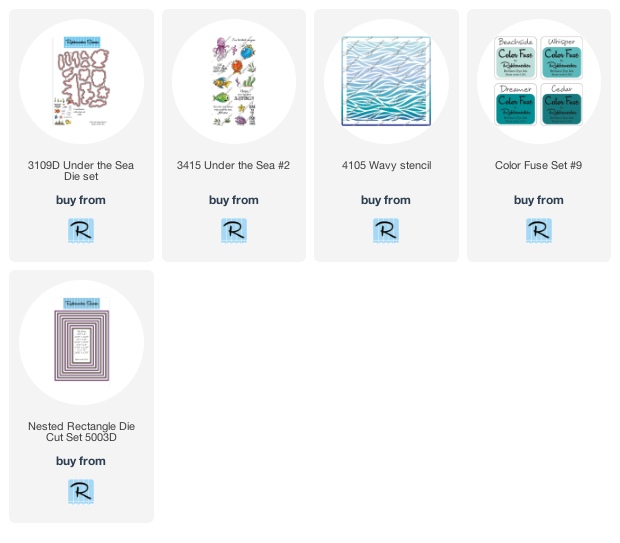 Wow – we just LOVE these cards! And we love seeing new techniques for using stencils like this easy-peasy HOLY COW how to stencil with glitter paste and get these kinds of results. Stay tuned because our designers have LOADS of fun projects using these stencils to share in the upcoming days!