Learn how to use stamping foam with stencils in just a few easy steps!
If you've been wondering how to use stamping foam with stencils to make custom stamps, you are in the exact right place! Today Melinda is taking one of her favorite stencils from our collection and using it to make a custom stamp for her oh-so-pretty Fall themed Thank You note. She shared with us that she is "going to spend the month of October making thank you cards. I never seem to have enough and with the upcoming holidays I feel like Ill be needing them." Can you really ever have too many Thank You notes?
Let's take a look at how Melinda used her stamping foam today and how she put this lovely card together.
A couple of quick notes about this stamping foam. You can purchase this online or in craft stores and it typically comes in a package of four pieces that are about 3″ x 4 ¼" though you may find larger pieces here and there. To prepare your stamping foam, you will want to heat it with your heat tool – we've heard you can use a blow dryer, too – for 15 – 20 seconds, ensuring that the entire surface is soft and ready to shape to your choice of design. Once warmed, you want to place the foam, heated side down, onto the material you want to turn into a stamp. Hold this in place for a good 15 seconds without moving it to make sure you get your details really formed into the foam, which will happen as it cools.
Remember that the design will be a reverse image of what you have on your source pattern. When you are done stamping with your custom image, just reheat the foam to reset the surface to use another time with a different design!
You can use stencils, embossing folders, background stamps (picture a mirror image of a background next to itself!), objects laid on a work surface like, say, coins or seashells…..really, you are only limited by your imagination!
Today Melinda used our Fall Leaf Stencil to make a custom stamp on her stamping foam following the steps above. She then inked up her "stamp", misted it with some water and stamped it onto the center of a card panel sized piece of watercolor paper. Because she was going for an abstract watercolor look, Melinda reinked and remisted her stamp and made several backgrounds at once.
Melinda set aside her stamped panels and created her cute pumpkins. She used our Pumpkins and Ivy die to cut scraps of white card stock and used Pumpkin Color Fuse Ink (what else, right?) from Set #2 to blend in from the edges, leaving a highlight in the center. She also used Moss Color Fuse Ink from Set #10 to blend color onto the vines and leaves. Melinda also used a flower shaping tool to add some veins to her leaves and to add some gentle cupping to them as well.
She stamped the Thank You from our Composable Freehand Borders set and trimmed it down.
Setting all her small pieces to the side, Melinda made her pretty frame and layers. She cut her stamped piece with one of the dies from our Nested Rectangle With Pierce set, making sure her stamped design was as much in the center as possible. She used our Rectangle Combo OPC #4 die to cut white card stock twice and gold card stock once, taking the middle sized frames of each cut and saving the others for future projects. She adhered all three together with the gold piece on top to make a nice thick frame.
Melinda adhered her sentiment to span the center of her stamped design and adhered her frame over the top. She added her little die cut details, draping the vines over and outside of the frame. She added her pumpkins with varying thicknesses of dimensional adhesive.
Melinda layered her decorated panel over a piece of dark brown card stock cut to offer a whisker of a border and then adhered that to a card base with some dimensional adhesive for more depth. PRO TIP: Smear some liquid adhesive on the foam tape after peeling off the backing to give you some time to get everything aligned just so.
Isn't this just so lovely? The pretty watercolor look of the background set off with the detailed die cuts really mimics fall with its combination of the softer, fading colors and bright pops of Fall elements determined to leave their mark!
Here are the items Melinda used today: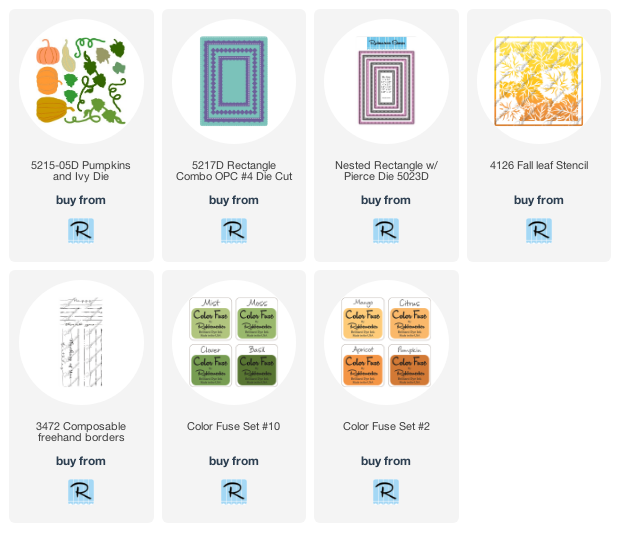 Now you've got the basics on how to use stamping foam with stencils – try it out and then expand your stamping horizons by experimenting with other textural elements and see what you come up with!