Come see how you can create gorgeous looks using one layer card masking – quick and easy and FABULOUS!
Today's technique is so simple that it's almost not a "technique". One layer card masking – quick and easy and with just a few supplies – is an oldie but boy, is it a goodie! And today Colleen is showing it all off with a beautiful, colorful, perfectly all occasion card that we can all make in mere minutes. Let's dive in!
Start by cutting a medium sized oval in the center of a piece of masking paper, printer paper or just plain card stock. Lay the mask over a card panel sized piece of pale card stock and secure in place to make sure you get a crisp edge when you ink.
Using our Pin Tree stamp set, stamp your choice of trees across the oval in a variety of Fall colored Color Fuse Inks. Colleen used Autumn, Pumpkin, Clover and Mocha. PRO TIP: Be sure to vary the positions of the stamps so they are all different heights to create some depth.
Use your favorite ink blending tool to buff some Sky Color Fuse ink inside the oval using a very light touch to add just a hint of a sky in the background. After adding your sky, stamp your sentiment in black within the oval.
Remove the mask, admire the effect and adhere your panel to a card base. Be amazed that you just created something so beautiful in, like, no time flat!
Honestly, sometimes you really need a fast card to get in the mail before you hear the mail carrier and sometimes you need a fast card because you need to CRAFT, even if just for a few minutes. This one layer card addresses both of those needs and it truly is just so pretty! Here's what you will want to pull out of your stash to make this card: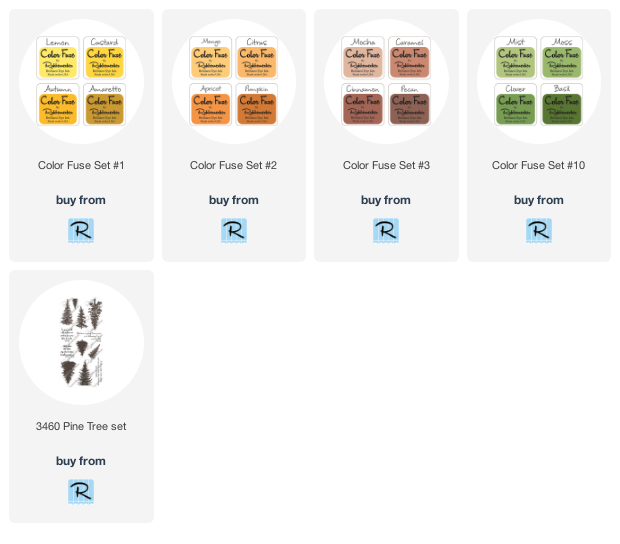 There are times for super duper detailed cards and there are times when this one layer card masking – quick and easy and still beautiful – is JUST the answer. Save this post because we are sure there will be a time when you want to make something this lovely on the fly!