This ink blended card background gives us all the summer feels!
We love a beautiful, velvety, color-rich ink blended card background, especially ones that give us a true feeling of the theme on the card. Today Melinda is sharing how to make an inked panel that practically makes us feel that sunny warmth. Let's get started!
Melinda started her card by cutting a mask for the sun with a small circle die and adhered it with removable tape in the upper right corner. Using Color Fuse Inks, Melinda used her favorite ink blender to add her gorgeous background coloring. She started with Apricot from Set #2 around the sun, blending in Custard from Set #1 around that. Now, using Blush from Set #5 and Lilac from Set #6, she applied her ink here and there, making sure to blend very lightly at the edges of each application to avoid accidentally creating any brown tones on her card.
Melinda says "I did make a few smudges, but don't worry – those will get covered up." We are so glad to see that even the "professionals" have these things happen!
Melinda removed her mask and used a little Custard ink from her blending brush to add a touch of warmth to the center of her sun.
Using black ink, Melinda stamped some of the images from our Colorful Vines set around opposite corners with just a touch above where she intended to stamp her sentiment for some visual continuity. She chose her words from our Shadow Words set and stamped them down the side of the sun.
For her fun summertime swing, Melinda stamped her branch and swing from our Tree Swings set, colored them in with markers and cut them out with our coordinating die. This set has become a fan favorite and we love that we were able to create something that's been such a lovely nostalgic element for all of you who've shared your stories with us!
Melinda added her die cut elements to her card with a little dimensional adhesive and this card was ready to make someone's day!
Here are the "ingredients" from our store that Melinda used today: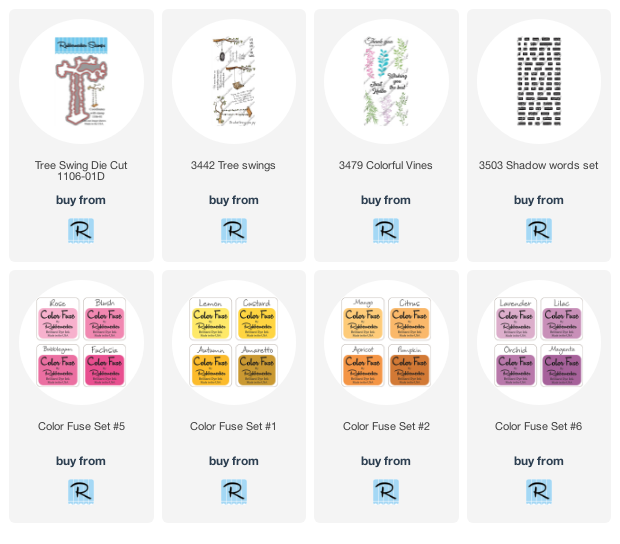 You can see how you can use an ink blended card background can set the whole tone for a project and how easy it is to do when you use blendable inks like our Color Fuse sets. Try this out the next time you are setting a scene using your own picks for cute details and see what happens!