Make this spring center step card using a ready to decorate die cut card base!
When we first saw this pretty spring center step card we "awww'd" over the pansies and the cute bunnies. And then our brains registered the greeting and we HOWLED! What a fun mix of traditional spring elements with a sentiment that is perfectly suited to anyone who get why you do what you do!

We have Lisa to thank for this cheeky project and she's sharing all her steps with us so we can follow along to make our own version. Lisa did start with one of the precut card bases which saves a TON of time. So get your own center step card base ready and let's get started!
Start by measuring your sections of the die cut card base, subtracting 1/8″ from the measurements if you want to leave a little border. PRO TIP: "Sacrifice" one of the cards in the set and write the measurements right on the different sections for easy reference.
Lisa says you can for sure shop your stash of patterned papers but she wanted to make her own for this project. She started by cutting a piece of yellow card stock to card front size. To give her custom paper some variations in shading, she roughed up her panel with some sandpaper. Lisa then added back in even more depth of color by blending all the shades of yellow from Color Fuse Set #1 over the surface.
Next, Lisa laid our Honeycomb stencil over the panel – use that Pixie Spray to keep it in place – and blended Amaretto Color Fuse over the top, followed by a little Autumn to help meld the colors together.
For a little visual texture and some sheen, Lisa applied some translucent texture paste over the stencil.
She peeled off the stencil and sprinkled a little distress glitter over the panel and then immediately washed her stencil so it didn't get permanently gunky. When the paste was dry, Lisa gently pressed the glitter into the paste and then gave it a spray with some fixative to keep the glitter on the card and not all over her clothes.
Whichever paper you use, you will now cut it into the layer sizes you noted and add the pieces to the appropriate spots on the center step card.
For the fresh spring grass, cut green card stock to 4 ¼" and then cut some layers using our Slimline Grass die and our Tabbed Grass set. Adhere these to the bottom of the card base using varying thicknesses of dimensional adhesive on each layer to build up the scene.
Stamp the flowers from our Always on My Mind set, color them in with your favorite color combinations for pansies and/or violas and then cut them all out with our coordinating die. Lisa opted to add a cute bunny from our brand new Bunnies and Flowers set and colored him in to look so cuddly, cutting him out with our coordinating die and then setting aside to frolic in the die cut flowers until it was time to "hop" on the card.
Now make your sentiment assembly. Lisa chose this make-you-smile on from our Crafty Phrases and stamped it onto a scrap of white card stock, cutting it out with one of the dies from our Nested Circle set. She chose a set with nested dies to be able to cut a slight larger circle from a coordinating color of card stock to help it pop.We are firm believers that you can NEVER have "too many" nested dies – they are so useful in so many ways!
To assemble the card, arrange your flowers in the grass, adhering with liquid glue and dimensional adhesive to create the depth you like. Tuck in your bunny if you decided he was too cute to leave off and then adhere your greeting – with a few flowers tucked around it – to the upper part of the card with foam tape.
To accentuate that sassy greeting, Lisa added a few sequins around it and this was ready to send to someone special!
Here are the things Lisa used today to make this colorful, fun card: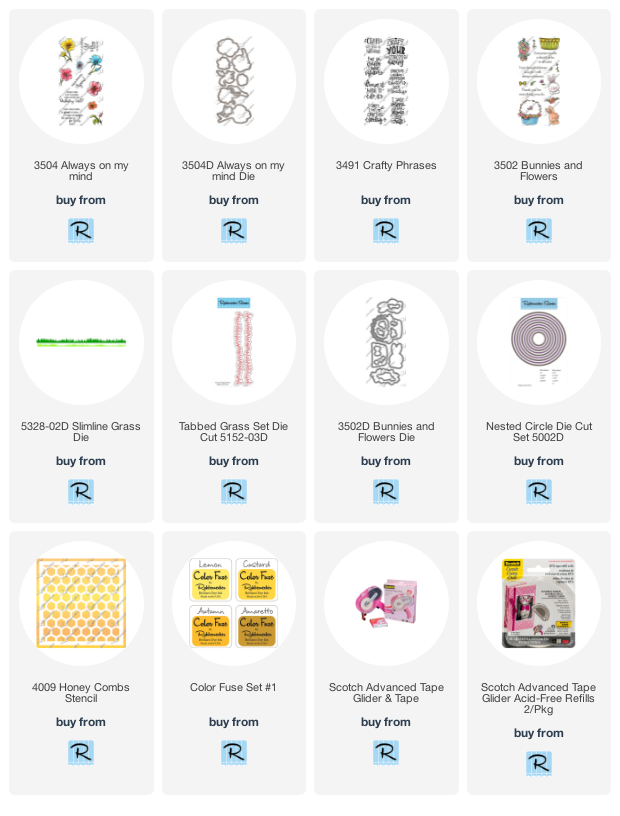 When you start with a premade card base, you can turn this spring center step card out using any of your favorite spring themed elements. Give it a try and see how much fun these are to make!