Today's beautiful birthday card is all about ink blending. This way of adding beautiful, dreamy color to a project is super easy and as today's designer, Annie, says "whenever I'm not in the mood to color with markers or paint, ink blending is a fast way to color images and gives beautiful results." It certainly does – just LOOK at that card! Want to learn how to make it? Here we go!
First trim your background panel to 4″ x 5.25″ and stamp our Happy Birthday Frame onto it with Versamark and heat emboss with white embossing powder. Don't forget to use your anti-static tool when it's super dry like it's been this winter!
Now position your die – Annie used our Honeycomb Die, in the upper right corner inside the stamped frame and zip it through your machine.
Here's where you will do your first application of ink blending – take a couple of colors of ink that are similar to your card stock panel and gently buff in some color, darkest at the edges, to add some more dimension. Here Annie used Dreamer and Cedar Color Fuse to go with her pretty teal.
Next, stamp our Brushed Flower #7 onto white cardstock with Versamark and again, heat emboss with white powder – do this two times. Using your favorite blending too, blend your choice of colors over the three blossoms of one of the stamped images. Here Annie went to the other side of the color wheel and chose some pretty pinky-oranges with Apricot and Crimson Color Fuse. Fussy cut your flowers, leaving just a hair of a border. Now do the same to the other stamped image, coloring over the stems and leaves, as Annie die here with Fern and Basil Color Fuse . Cut that out too just like you did the flowers.
Add your background panel to a card base using foam tape and then add the leaf piece to that panel with more foam tape. Add the flowers with double thickness dimensional adhesive for even more depth. We know, right? Gorgeous! And pretty simple with super luxurious results!
Here are the items from our store that Annie used today. Don't forget that the birthday goodies are all on sale through Friday!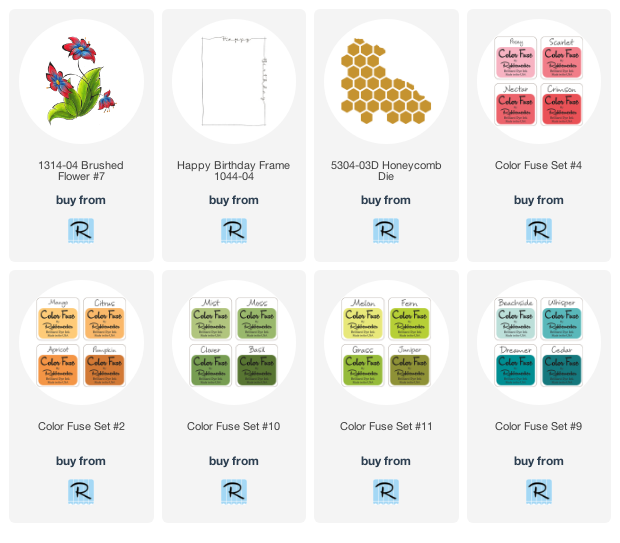 Doesn't this card make you want to be an ink blending fool? We specifically designed our Color Fuse inks to not only be in shades that blend perfectly together within and outside of each color set but also to be of the right consistency to give you ink blending fabulousness every time. Try it out and let us know what you think!