Get another look at how inking paper pierced backgrounds adds so much detail and richness with such easy steps!
Based on the responses to this card and this card, you love the technique of inking paper pierced backgrounds to emphasize the design while adding color, texture and dimension. Today, Allison is using this to create a Fall card for us that has a gorgeous glow accented with a sweet little rustic vignette. Let's get into the making so we can started on our own!
Allie started by running our Floral Swirl Pierced Cover die through her machine with a piece of white card stock. She then used a direct to paper technique with her Color Fuse Ink cubes and applied shades from Set #2 to her pierced background. Allie says "Using the cubes gives a more vintage, grungy, mixed media style look". Thanks for the tip – saves us from having to clean a tool!
Allie used the darkest shade, Pumpkin, for just the very edges to help set off the panel from the card base and add a hint of a shadow. When she had it all colored up, she trimmed it to 4″ X 5 ¼" and adhered it to a white card base with her tape runner.
Next Allie took a scrap of white card stock and used the same inking technique to add Fern and Melon Color Fuse Ink from Set #1 to create a custom colored patch for her greenery, which she cut using our Floral Stems die, saving a piece to back her fence made in the next step.
Next Allie use our Peak Fence #4 die cut cut a scrap of kraft colored card stock and adhered her greenery behind it with liquid glue. To conceal any gaps, she took that scrap of her custom green inked card stock and adhered it over the stems on the back of her little rustic element.
Then Allie cut a piece of white card stock with a die from our Nested Circle Scallop With Holes die set and stamped her sentiment from our Splattered Leaves set in the center top half. She adhered this to the center of her card with dimensional adhesive.
To finish off this sweet little piece, Allie wrapped a piece of baker's twine around her fence and added a little button to the center front. She then adhered this to her card, layering dimensional adhesive to let it stand up a bit above her sentiment circle.
A few Nuvo drops for some accent and this card was ready to delight a lucky recipient!
Here are the goodies from the store that Allie used today: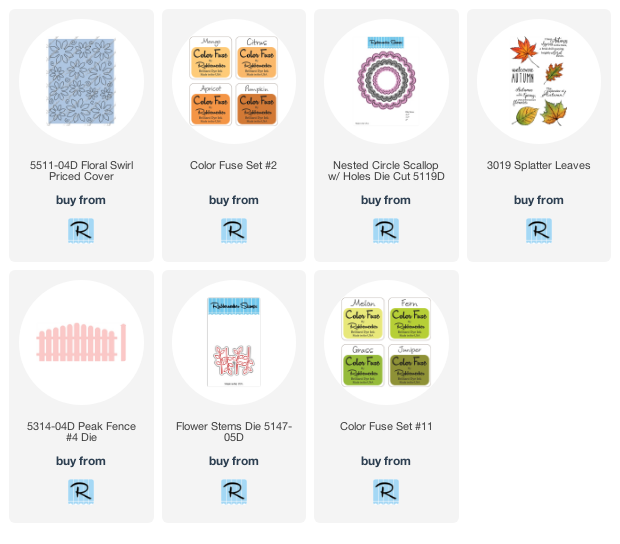 Have you tried inking paper pierced backgrounds on any of your projects? Are these cards convincing you it's time to try? This inking technique will look spectacular with any of our pierced cover dies so add one to your shopping list and play around!