Use this tip with large snowflake stencils for cards and see the difference it makes!
While tiny, all over snowflake designs are really sweet, large snowflake stencils for cards, like ours, are designed to give you lots of design details for the different shapes of snowflakes. Customers asked us for these larger designs and we were happy to bring them to you. Preeti even made a fabulous video tutorial for us using them here.
Today, Lisa is sharing a tip that is just one additional step when using a stencil and the additional detail it gave this project is SO much more than the sum of its parts! It's a great thing to do with any overall large patterned stencil and today it adds so much to this project. Let's check it out!
Lisa started by cutting a panel of white card stock with the largest of our Nested Rectangle Small Stitch dies. Because our new Snowflake stencil IS indeed loaded with lots of design details, Lisa chose to use Pixie Spray – she just sprays the back of the stencil, waits about 20 seconds and then presses it over her surface. Such a handy tool!
To get all that gorgeous, icy, depth on her background, first Lisa blended some Beachside Color Fuse Ink from Set #9 through the stencil, not worrying about an even application. She then added a little Whisper Color Fuse Ink from the same set around a couple of the edges and a teeny bit into the panel.
Now comes her easy – SO easy – tip. When using sprays, like the Distress Stain and Color Shine sprays Lisa used today, most people just spray from the bottle. Makes sense, right – that's what the spray is there for. But Lisa says that she likes to instead use a paintbrush to splatter rather than the spray nozzles because it's easier to control where your droplets will go with the paintbrush.
A splatter is more irregular and uneven than a spray which will give you much more texture and dimension than an even spray. This isn't to say that there isn't good use for even coverage at times but when you are going for something as dimensional and dynamic as this look, Lisa's tip will add SO MUCH extra detail
.
While this panel was drying, Lisa stamped some of the images from our Christmas Gnomes set, colored them up and then cut them out using our coordinating dies. She used an Exacto knife to cut a little slit along the edge of the gift box and tucked the little penguin inside.
Now she took her completely dry panel and layered it over a turquoise panel to leave a barely there ⅛" border and then popped that onto a card base. She arranged her images over her magical, looks-like-its-swirling snowy background and added them using varying thicknesses of flat and foam tape. She bumped up the "icy" factor with a few sequins and this very fun card was ready to send!
Here are all the fun goodies Lisa used today: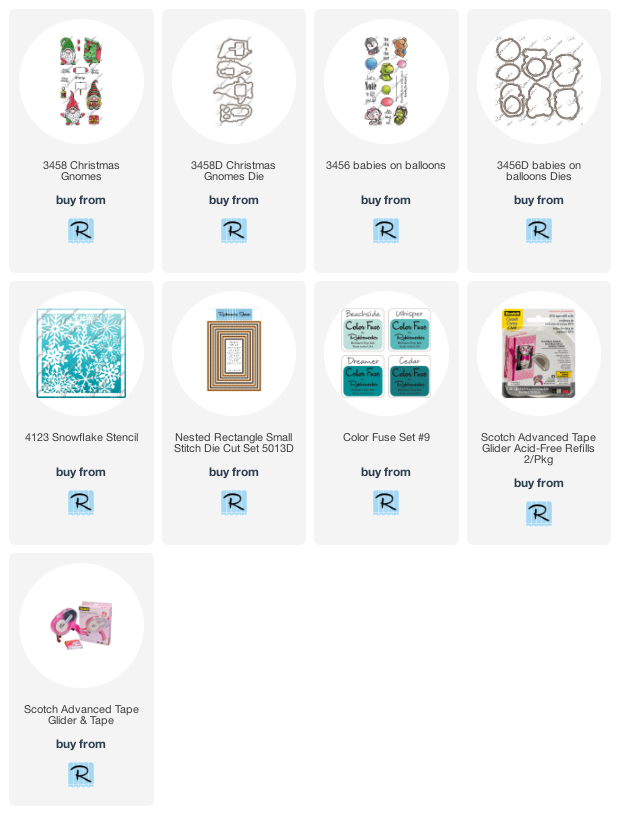 Remember this easy tip when you are using large snowflake stencils for cards and paper crafting – any large stencils with details, actually – and add that gorgeous, irregular and irresistible texture to your projects!