See how you can make layered die cut poinsettia cards that will knock their fuzzy socks off – easier than you might think!
There are lots of ideas out there for layered die cut poinsettia cards but we are venturing a huge bet that there aren't many as spectacular as this one from Melinda! Melinda says "For today's card I wanted to use some scraps from a large mixed media panel I created recently. I also had a few green panels I created a while back and set aside because I wasn't sure what to do with them. I go through these paper scraps often to clear them out."
Shall we get the inside scoop on this beauty directly from Melinda? We thought you'd say that – let's listen in to her share the making in her own words…
Start by going through your paper scraps for some green and pink pieces. You can also use patterned paper for this card and it would come out great. My scraps were just pink and green so I stamped them with Rubbernecker's French Script Background.
Using the Poinsettia #2 die use the 3 smallest and up dies and cut the pink scraps three times.
Now take the two larger dies and cut the green three times (you will have one die you cut both the green and the pink with).
Take each layer and slightly bend in half the long way to add some shape to your flowers. You can also use a flower shaping set if you have one.
Use one large green as a base for the largest flower and stack a pink one over that. Make sure you stack them off set a little to make sure your petals don't overlap. Add a middle pink layer.
Stack up the rest of your flower the same way making different sizes. I made a large medium and smaller one. For the medium size start with large green medium and small pink. For the small one use all small pieces being sure to off set so you see all the layers.
Cut a piece of white card stock to 4″ x 5 1/4″ and stamp with the lightest blue green Color Fuse Ink, Beachside from Set #9, with the Pine Bough background stamp.
Stamp the sentiment from the same stamp set on the upper part of the stamped frame using the darkest blue green Color Fuse Ink, Cedar, from the same set.
To draw the eyes across the card arrange the flowers from one corner to the opposite.
Use the medium at the bottom left and then offset the smaller one slightly above and to the right.
Adhere the last flower to the upper right. You can play with the placement and glue down where the look right to you.
You can batch these by cutting lots of and making a bunch of flowers at once. Sometimes I do this while watching a movie.
Rubbernecker back – Wow, wow, wow! That card is SO pretty and all the cool coloring and texture from those papers add tons of visual interest! And did you notice that Melinda said this would be a great batch card? If you were to shop your scrap stash, we are betting you'd see TONS of great combinations to use to make your own variations of this stunner.

Here's what you will want to grab to make this card at home: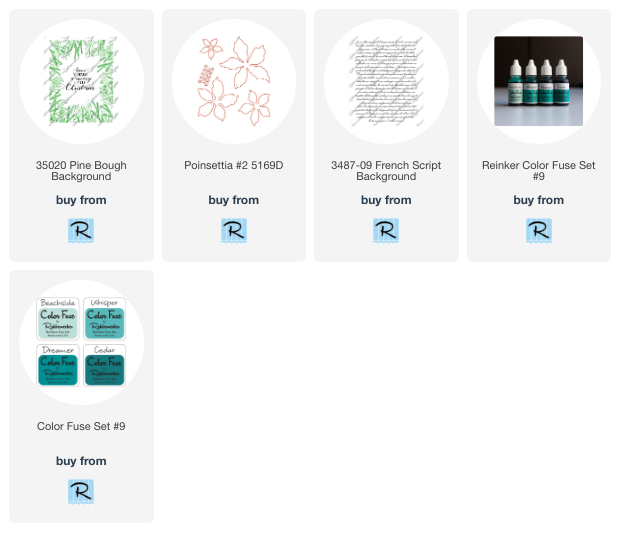 This version of beautiful handmade layered die cut poinsettia cards is truly unique yet instantly recognizable for the coming season. We suggest you do a little flipping through your scraps and see which patterns and colors you have in there that inspire you!