Learn how to make a layered dimensional paper poinsettia that will rival the real ones!
Creating a beautiful layered dimensional paper poinsettia may look impossible and difficult, and today Carol is sharing with us her tips for making it totally doable. Carol says "For me, creating Christmas cards gives me total permission to go all out with the bling and glam as I have done here! Using previously released, but still loved, products can always be made in a new way to make them look new and fresh."
Well, these paper poinsettias sure look fresh! We did a double take when we saw the first photo because they are so realistic! And Carol is generously sharing all her tips and tricks today. We don't know about you, but we want to hear it from Carol and we are ready!
Directions:
Create the card base and layer by placing the Quilted Stitch Cover die over a piece of matte silver card stock.
Run it through your die cutting machine, then trim to 4″ x 5-¼".
Adhere the panel to an A2 card base with glue.
Next die cut the Poinsettia #2 die from watercolor card stock. I die cut it three times. The steps below are repeated for each Poinsettia. (Note: I used watercolor card stock since I planned on doing lots of ink blending and lots of splatters that could be too much moisture for standard card stock.)
Turn the piece over and put removable tape over the die cuts. This helps to hold them while ink blending over the top.
Using an ink blending brush, blend Blush Color Fuse Ink (all pink inks are in Color Fuse #5) onto the flower centers extending out a bit.
I die cut three extra of the largest poinsettia layer by placing a smaller piece of watercolor card stock over that section of the one-piece die.
Next ink blend Rose Color Fuse Ink all the way to the tips of the petals. Remove the tape from the back to remove the petals.
Now let's ink up those three extra layers by inking the darkest shade to the lightest. I used Basil, Clover, and Moss Color Fuse Inks from Set #10.
I added splatters of water by dipping a paint brush into water, holding it over the petals, and tapping the brush with my other hand to add the droplets.
Then I put a dollop of white paint onto my craft mat, added a few drops of water to dilute, then dipped in my paintbrush to add the pretty white splatters. Note: I like this particular brand because it gives me great results every time.
When the white paint splatters were dry, I splattered on Confetti White Perfect Pearls. Just scoop a small bit of the pearls out, add a few drops of water, mix with your paintbrush, and splatter away!
When the splatters are dry, use a ball stylus to shape each die cut. First press the stylus on the back of each petal, then turn it over and press into the center.
Then press into the tips to slightly curl them up.
Now it's time to assemble the poinsettias by adding glue to the center of the green base layer.
Be sure to have the petals of each layer offset from the previous layer so you will have all of the beautiful layers showing.
Die cut the poinsettia centers from matte silver card stock.
Use a tiny ball stylus to cup the centers. You can adhere as many as you like to the poinsettia centers with glue.
When the glue has dried, use glue with a fine tip to add very thin lines of glue along the edges of several of the petals.
Sprinkle on clear chunky glitter. I do just several at a time because that thin line of glue will dry fairly quick. Note: I work over a paper coffee filters–makes it so easy to pour the extra glitter back into the jar.
When the glitter is set, add a dollop of glue to the back of each poinsettia and arrange on the card front.
If needed, use a large stamp block to hold the poinsettias down until the glue has dried.
Stamp the sentiment from the Christmas Cheer Set with Versamark clear embossing ink.
Sprinkle on silver embossing powder and heat set with your heat tool.
Die cut the sentiment with one of the Small Tags Die.
Add foam tape to the back of the sentiment to pop it up on the card.
Rubbernecker back again. WOW! Carol sure DID make that look easy considering what an exquisite paper poinsettia you end up with! This card is so incredibly beautiful it's more like a little work of art than a "card". Hmmmmmmm, maybe these should be mailed in frames?
If you feel confident thanks to Carol's expert explanations, here's what you will want to snap up to make these exquisite flowers at home: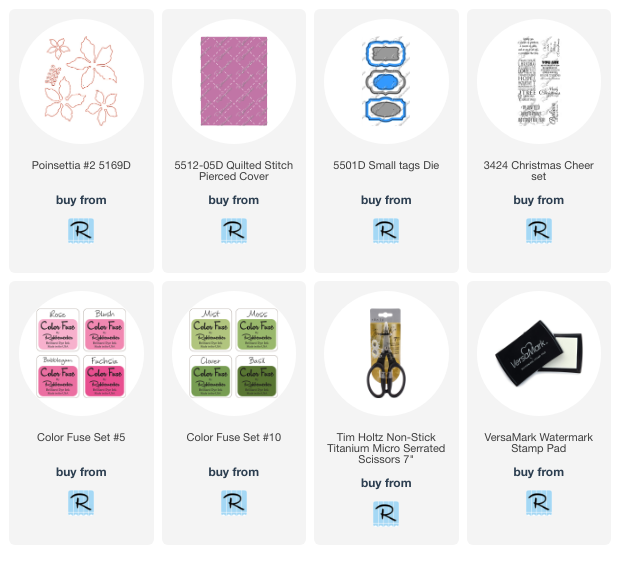 The fantastic thing about having all the detailed steps to make a layered dimensional paper poinsettia like this one is that you can now substitute in the elements you love – color changes, different sizes, etc. – and still end up with something this spectacular. Are you going to try this out? Let us know!