See how easy it is to make beautiful cards with our layered floral stamps!
Our layered floral stamps are super popular and when you see the THREE cards Carol has made for us today, you can see why these fly out of our shop at a breathtaking pace! Just look at all these details and how gorgeous all that dimension is just from stamping in different colors or shades of ink! Let's dive right in because Carol brought ALL the tea today!
Carol made her first card using beautiful Summer Bouquet set along with our new Bold Rose two-part stencil set.
SO pretty! And when you see how easy this is to make, you are going to want to combine all the layered floral sets with all the Color Fuse ink sets to have endless gorgeous card ideas! Carol sprayed the back of both of the stencils in the two part pack with Pixie spray. This helps keep the stencils from shifting as you are inking and the tackiness lasts through a few uses. If you don't have Pixie spray, just use some washi tape on the corners.
Carol placed this stencil over her card sized panel of white card stock and using some sponge daubers, applied ink in different shades of green from Color Fuse Set #11. PRO TIP: When using stencils with smaller openings, using sponge daubers can help you get into the "corners" while allowing you to keep that gradient look offered by the different shades of ink.
When her leaves were done, Carol replaced that stencil with the blooms stencil and used inks from Color Fuse Set #4. PRO TIP: When using these two part stencils, just rotate the second (or third, or fourth) stencil until you see it line up with your inked area. Easy-peasy!
Now that her background was complete, Carol moved on to her bouquet. She die cut some white card stock with the largest of our Nested Oval Scallop dies and placed it in her stamp positioner using some washi tape to hold it in place. She centered the leaf stamp on the oval, closed the hinge of her positioner and inked it up using a sponge dauber to apply the same greens from Color Fuse #11 over the stamp. PRO TIP: Start with the lightest ink, working to the darkest, stamping each shade as you go so you can see how you like the look.
This very cool inking technique gives you even more shading and dimension to these already detailed layered floral stamps and takes any project up a notch!
Then Carol used this same inking application to add shades of Color Fuse sets #4 and #9 for her flowers.
Last, she chose a sentiment from the same set and stamped it with black, overlapping the stems just a bit. She popped this over her stenciled background with some foam squares and card #1 was complete!
On to Card #2, made with our crazy popular Country Blooms set.
Carol started by cutting some white card stock with the second largest of our Nested Rectangle With Scallops dies and, again, using her stamp positioner, got the leaf layer centered. She used her sponge dauber technique to ink up this stamp with Color Fuse Set #10 shades, again starting with the lightest and going to the darkest.
Then she positioned the flower stamps over these leaves and repeated her sponge dauber trickery to ink up the blossoms using Color Fuse Sets #9 and #4.
She stamped her sentiment in black ink in the corner and again, added this die cut panel to a white card base using foam squares. Card #2 – ready to send!
(Aren't you just LOVING these quick-ish, easy cards? SO much depth and detail!)
Last card! <sniff>
Carol created another stencil and stamp combination on this project using our Wondrous Wishes stamp set and our Sun Burst Stencil.
To make her stenciled panel, Carol cut some white card stock with the second to largest of our Nested Rectangle With Small Stitch die set. She stamped her flower layers using the inks from Color Fuse Set #6. Next she stamped the stems for the blooms using inks from Color Fuse #10. She then took some masks she had made from the flower base stamps – keep your masks in your stamp set package and you can use them over and over! – and placed them on this panel. Using her blending brush she buffed some Lemon Color Fuse ink from Set #1 over her panel, fading the intensity of the color out toward the center and bottom.
Now she placed our Sun Burst stencil in the upper left hand corner over this panel after spraying it with Pixie spray – you can tape both down with some washi if you don't have the spray. Using Custard and Autumn ink from the same Color Burst set she buffed some rays over the panel.
Carol stamped her sentiment in black in the lower left corner, letting it overlap the stems a bit to create that pretty "floaty" look.
For her layers, Carol cut some purple card stock that she coordinated to the ink colors of her flowers with the largest of our Nested Rectangle Small Stitch dies and adhered it to a card base. She added her beautiful stenciled and stamped layer over that and for some final touches, she added dots of Dandelion Yellow Nuvo Drops around the edge of the sun and also just around the flowers and a few dots of Apple Green Nuvo Drops to the flower centers.
WOWZERS!
Here are the goodies you will want to add to your card to be able to make all three of these stunning cards. And remember, we now have lots of sentiments in sets so you could pretty much just make these three cards in any color combinations with any sentiments and have cards for every single occasion for the rest of your life!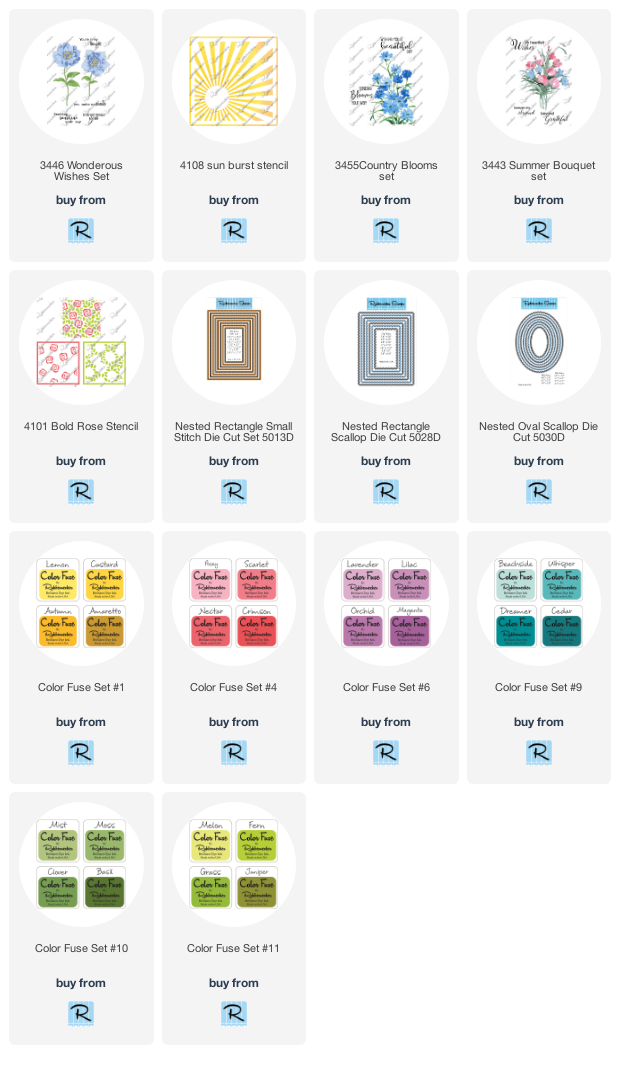 Did you love these cards? Are you ITCHING to get to stamping with our new layered floral stamps? We ARE! But we are busy filling all your orders so stamp for us, OK?