See why our floral layered stamps are perfect for stamping with pigment ink!
Stamping with pigment ink isn't quite as popular as it used to be and when we see cards like today's from Renee we can't imagine why not! Just LOOK at those beautiful sections of color, all created thanks to our floral layering stamp sets.
Because pigment ink does sit on top of the paper (as opposed to actually sinking in as what happens with dye ink) you can use these bold, bright, deliciously saturated colors over any color of paper. Now, pigment ink does take a bit to dry – you can speed the process along with your heat tool – but if you are patient, you will be rewarded with these rich, vibrant shades that stand out against any color background and really pop against each other.
Let's take a look at how Renee put this together for us.
Renee started by putting a piece of kraft paper in her stamp positioner. Even though our floral layering sets are clear and come with a handy guide to make building the flowers super easy, using a positioner is an easy way to get everything lined up just so AND if you decide you want to restamp with more ink there is NO guessing!
Renee took the first layer of our new Blooming Heart flowers and stamped them with the lightest inks in her teal family first. She allowed each layer to dry completely before stamping the next to make sure each color stayed crisp and separate. She then moved through the layers, going darker in ink with each one, to give them this very rich, detailed look. She then repeated this with the stems and leaves.
When her panel was completely dry, she trimmed it down, layered it over a very thin mat of kraft paper with adhesive tape. Before adding this to her dark teal card base, she wrapped her trim around the layers and added a small sweet bow.
To make the sentiment, Renee stamped her words onto a scrap of white card stock using the darkest ink to keep everything cohesive and cut it out with one of the dies from our Nested Oval Small Stitch die set and layered it over an oval cut using our Nested Oval Scallop die set from a scrap of kraft card stock. She then attached that assembly to her card using some small pieces of double sided adhesive foam for just a hit of a shadow.
Sweet and simple and oh-so-stunning! Here's what you will want to add to your card to make this card at home: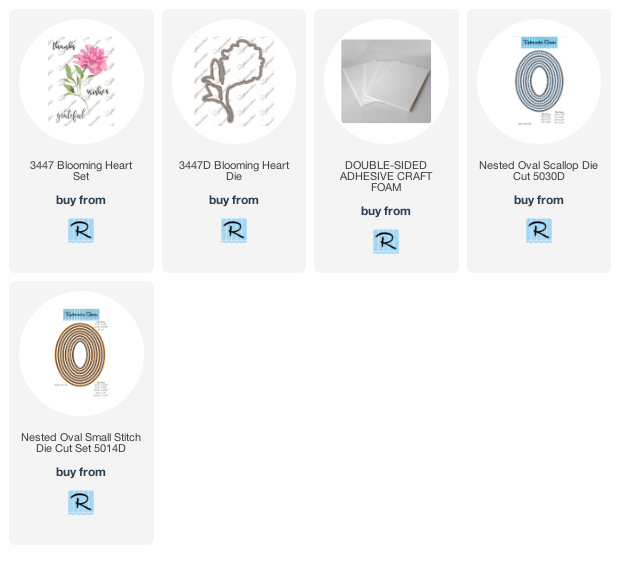 We are excited to see our designers and customers experimenting with stamping with pigment ink using our layered floral stamps and hope this project and others we've shared inspire you to dig out those ink pads!