Learn how to use our layered flower stencils step by step and watch the magic appear!
Stenciling, and more stenciling, with popped up die cut layers makes a gorgeous presentation! Today, Carol is sharing how our beautiful layered flower stencils – step by step with helpful photos – can create the most gorgeous cards. She's even sharing her favorite PRO TIP for using these easy tools to create all that dimension with perfect detailing. Are you ready? Let's see!
Carol started by creating that lush, colorful flower. Using our Someone Like You Stencil Set, she placed it over a piece of white card stock and used some repositionable tape to secure everything down to prevent shifting. This particular stencil has three layers for the flower and a fourth layer to add the greenery.

Carol lined up her card stock below the openings of Layer One and applied Lavender ink from Color Fuse Set #6 over the stencil. PRO TIP: You can place some removable tape over any of the other openings that overlap your card stock if you are worried about accidental ink spots.
Now Carol moved her card stock and lined it up below Layer Two for the Orchid ink (from the same Color Fuse Set #6) to add her next sections of color. You can see the first layer below the stencil here and how easy it is to align the next layer thanks to our designing in some "landmarks" for you to use to get each layer in place.
Moving on to the third layer and using Magenta – again from the same set – Carol added the last set of petals. She then lined up Layer Four to add her foliage and blended Clover and Basil inks from Color Fuse Set #10, adding the darker green near the base of the details to add some shading. NOTE: You can see an opening in the center of the flower from one of the petal details – these are the spots you might want to cover if you are worried about smudges.
Here's where we get to see Carol's awesome PRO TIP in action. While many people like to stamp the outline first and then stencil inside the spaces – and that's fine if that works best for you – Carol does it a little differently. She places her stenciled piece into a stamp positioner, lines up the stamp just so and then stamps her outline with crisp black ink. This can prevent black smearing from the stencil layers – the ink is never quite as dry as we want, right? – and any smudging along the stamped lines when you are blending the ink.
Just LOOK at that detail! Carol then cut this out using our coordinating die.
But wait – there's more! Now Carol started on the fabulous layered background for this spectacular card. She cut a card panel sized piece of white card stock with the largest die from our Nested Scallop With Holes set. She stamped her sentiment in the bottom right corner with black ink and stamped the large "You" onto a scrap of white card stock, cutting it out with the coordinating die in the set.
Carol taped the die cut panel and the frame together with removable tape on the back of the piece, flipped it over and covered up her sentiment with a scrap to keep that area pristine white. She then used Orchid Ink with our Cheesecloth Stencil to add that delicious detail, applying ink with a heavier hand toward the bottom left and fading it out as she moved across and up the card front. Carol used her die cut flower to gauge how far out and up she wanted to stencil.

Carol used some diluted white gouache (you can use diluted acrylic paint) and gold metallic pain to add some splatters, leaving that little mask in place to protect the sentiment area.
When the splatters were dry, Carol adhered the frame portion of the die cut piece to her card base and then added the center panel with some dimensional foam adhesive to add even more depth and shadows to her card.

She added her striking flower to the front with more dimensional adhesive, added her word die cut the same way, and then finished this off with three little trios of sparkling gems.

Just STUNNING! And with the easy to use stencils and the dies to do all the cutting, this card is far easier to make than it looks.
Here are the things Carol used from our store today – you KNOW you want to make this card!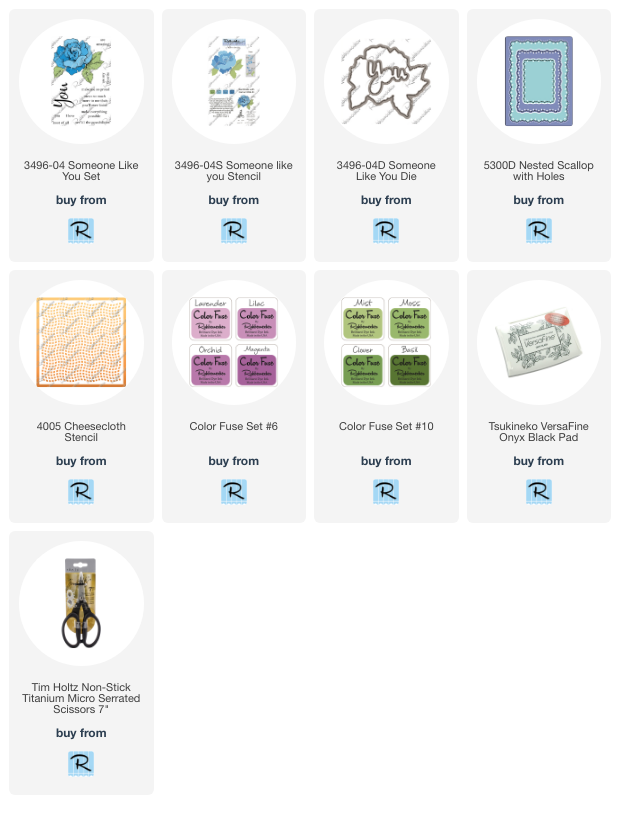 Now you got a peek at how you can use these layered flower stencils step by step and we hope that it hep you see how easy these are to use! And that you give these a try because the effects are gorgeous and the creative opportunities are endless!