See how easy it is to create using our new layered flower stencils!
Today's card, from Lisa, features two fabulous fun techniques in one. First, Lisa used our brand new layered flower stencils to create those dimensional blooms. Second, she created two gorgeous background frame elements using one of our great background dies. How fun is that? We love it when you can make two cards in one – what a fun time saver!
Let's talk about those layered flower stencils…. We created four sets to start that coordinate with stamp sets with the outlines for the stenciled images plus many beautifully curated sentiments, long and short, for you to have endless creative opportunities. These are SO easy to use! We included a visual representation of the different layers for easy reference, the layers are numbered so you can't go wrong and we even used specific Color Fuse Ink shades on the packaging to help you visualize both the process and the glorious final effect.
But, we all know there's no substitution for seeing things happen right before your eyes, correct? Well, Lisa has graciously created this wonderfully clear cut video showing exactly how these layers work together and just how excitingly easy they are to use. Here you go!
Aren't those just so fun? At no more than $26 for both the stamp and the stencil set – sold separately with each stencil and stamp combo priced a little differently – these can give you tons and tons of card making design ideas for not a ton of money!
And as if this wasn't enough for us to be inspired, Lisa used our Off Set Pin Wheel Cover Die to create not just one but two dynamic frames to use as card backgrounds. Let's get get all her scoop on making these two cards!
First, as we saw in the video, Lisa stamped the image from our Above and Beyond set as many times as she wanted individual flowers. PRO TIP: you can stamp your outline before or after you use the layered flower stencils; Lisa stamped first to help her align the different layers. She then applied her choice of our spectacular Color Fuse Inks through the stencils to create her beautifully detailed blossoms. PRO TIP: Use a low-tack adhesive like the Pixie Dots Lisa used to help keep the layers in place while you apply your ink. When she was done, she fussy cut her flowers and set them aside while she made her frames.
Lisa used a gel print she'd previously created and, using our Off Set Pin Wheel die cut that and a piece of green card stock that coordinated with her printed paper.
She then sorted the two sets of die cuts with the inner elements with the opposite outer frame and vice versa. So, the gel print triangular shapes with the green frame and the green middles with the gel print frame.
Now at this point, if you wanted a flat background you could just adhere the different inside pieces into the frames and have a lovely look. Lisa wanted to pop her die cut panels up on her card bases so she put them together in two different ways.
For the background with the gel print frame, she lay some low tack Pixie Tape over the front of the puzzle-pieced elements to hold them together.
After gently flipping them over, she adhered her dimensional adhesive to the backs of the pieces, aligning them as she went. When she had all her adhesive placed, she peeled off the backing, pressed her background onto her card base and then gently peeled off the Pixie Tape. PRO TIP: Lisa says it is very easy to put the pieces together from the front rather than the back – hence this method.
If you are feeling like you are very precise, you can try Lisa's second method to assemble this style of die cut background. In this instance, Lisa took just the frame and flipped it face down onto a NON-STICK SURFACE. She then ran some foam tape across the frame sticky side down. Then she flipped it over and was able to place her inserts into the correct spots with seamless edges.
Lisa says that both of these methods worked really well for her and it's just a matter of what YOU like best – experiment and see what you prefer. Here are the two different frames and you can see that their execution is quite similar.
To finish the making of these cards, Lisa added her backgrounds to her purple card bases and then she popped her flowers onto these with more dimensional adhesive.
For her sentiments, she cut the shadow portion of our You Script With Shadow die from a scrap of purple card stock and then the script portion from a scrap of light purple glitter paper. She adhered these together with liquid glue and added them with more dimensional adhesive, slightly overlapping the flower to create some flow on the card.
She then stamped her words with purple ink onto scraps of white card stock, trimmed the saying into strips and then added them above the word die cut.
We love that there's so many beautiful details to see on this card and all told, it and its "twin" weren't all that hard to make! Here's what you will want to grab to replicate these designs: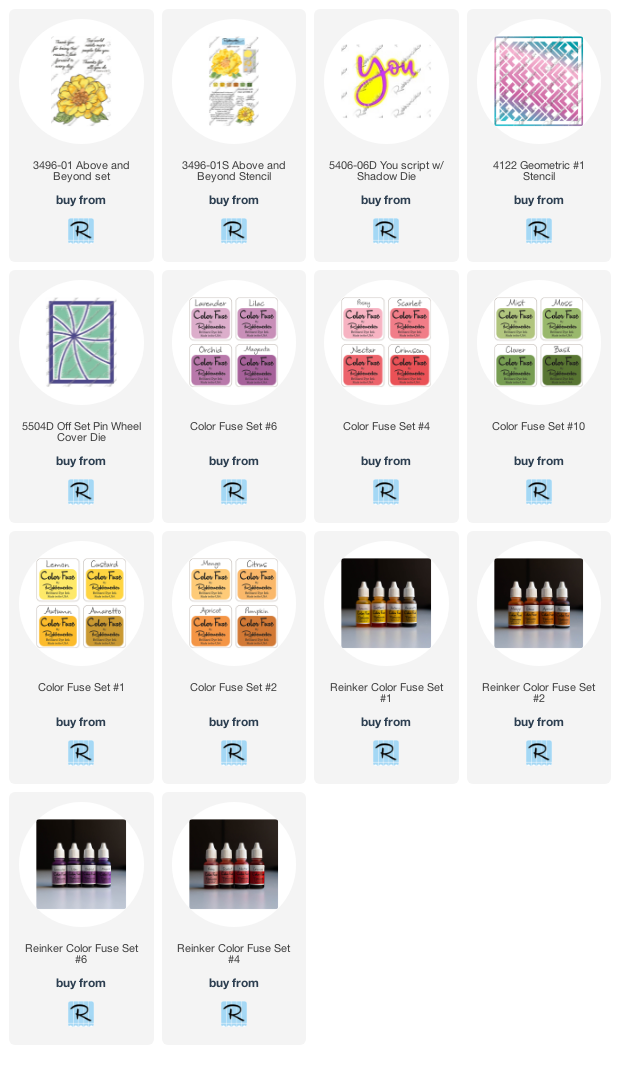 We are VERY excited that you got to see our layered flower stencils being used in this video and really hope you give your favorite design a try!