Get the steps to make a white on white Mother's Day card – quick and easy!
White on white cards are always striking and let whatever pops of color you use really stand out. Today Ricky is sharing his steps to make a white on white Mother's Day card that is so pretty and serene and the perfect card for making multiples. Why multiple cards on Mother's Day? Well, some families DO have two moms, there are often mothers-in-law and perhaps sisters with kids……. Plus "mother" can be a verb so giving one of these cards to anyone you know who embodies the word is such a sweet and kind gesture.

Let's get into Ricky's beautiful project.
Ricky started by cutting three pieces of white card stock using our Leaf Cover Plate die and adhered them together to make a nice thick element.
He then cut another piece of white card stock with our Plaid Pierced Cover die. Notice how much instant texture you get using one of these pierced dies!
Ricky adhered his sturdy frame over the pierced panel and instantly created a beautiful look with the combination of the background texture and the depth of his frame. This is a simple way to instantly add a ton of impact to a card. Shop your stash or check out our collection of cover dies to see what combinations you can come up with. He popped this onto a white card base.
Next, Ricky chose some scraps of colored card stock that he liked together to cut his accent blossoms using our Tulips and Stems die and adhered them together with dabs of liquid glue.
For his sentiment, Ricky stamped his greeting from our Mother's Day stamp set in Versamark onto a scrap of black cardstock and heat embossed it with white powder, then trimming it to a close rectangle. He adhered his elements onto his card with foam tape and – Voila! – gorgeousness!

Here's what he used today from our store: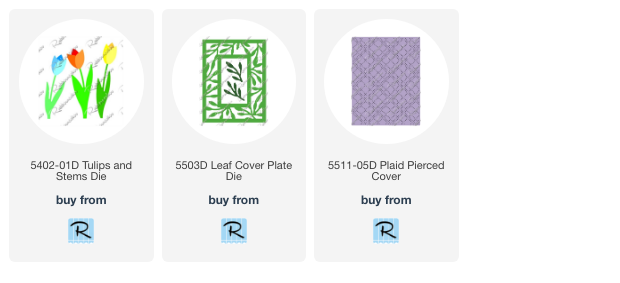 Whether you use this design to make a white on white Mother's Day card or to change it up for other occasions, you cannot deny that this is a simply stunning design!