See how easy it is to make an infinity edge shaker card perfect for the summer!
Once you know how insanely easy it is to make an infinity edge shaker card, you will want to turn all your designs into one of these fun, interactive projects. It's serious so simple and the edge to edge look is perfectly suited to these under the water cards that you all are loving making with our new under the sea sets!
You will need some shaker card pockets for these style cards. You can find these on Amazon or in craft stores. They come either as little bags or as a clear panel with adhesive flaps on all four sides.
You can also use good quality clear card sleeves which can be a lot less expensive. Just handle one before purchasing (or use a brand you know) to make sure they have strong seams – some are better than others. Don't worry if they are slightly larger then your finished card size; get one measurement (width or height) as close as possible, knowing that you can fold over and adhere any excess and it will be totally invisible.
Let's get started on this fabulous infinity edge shaker card from Carol!
Carol started by creating this gorgeous ombre ocean background. She cut her white card stock to card size and laid our Wavy Stencil – spritzed with Pixie Spray – over it. Using her ink blender brushes and the colors from our Color Fuse Set #9, she started with her darkest color at the bottom and worked her way up to the lightest shade at the top.
Our Color Fuse Inks are specifically formulate to both blend together consistency wise as well as color wise so you can create these ombre looks with total confidence. You can see this in this image – no awkward lines, no shifting in tones of the color – just perfection!
Carol recommends at this point to test fit your panel to make sure it will lay nice and flat in your infinity edge shaker pocket. Smart! If you are using the pocket type Carol chose (the clear panel with the adhesive flaps), adhere three of the four flaps to the back of the panel to make the pocket. If you are using a card sleeve, insert your panel and continue as below.
Carol added her shaker elements in the form of high shine sequins in blues and gold.
She adhered her fourth flap to the back of the panel and then used a strong double sided tape to add this panel to her card base. If you are using a sleeve, fold over any excess and adhered the flap down with strong tape. Then add the panel to the card base.
Now Carol made her cute details. She stamped her images from our Vitamin Sea set with Copic safe ink and colored in her images. Here were her color choices:
The little whale was done in C5, C3, C1, W3, W1;
The turtle is colored with G99, G46, YG63, G94, G43;
Carol's sea plants are G07, YG17, YG25, YG03, E57, E31.
She then cut her images out with her paper snips.
Carol made her sandy sea floor by taking a scrap strip of white card stock and colored over it unevenly with a Copic marker in color E31. She then inked up our Splatter Background stamp with Pecan Color Fuse from Set #3 and randomly stamped over her strip. Is that not the PERFECT sandy sea floor?
She then made her sentiment, stamping it onto a scrap of white card stock using black ink. She then used one of the smallest dies from our Nested Inside Scallop set and, lining up the bottom of the sentiment with the bottom of the die, cut it out. She then repositioned the top of the die to the top of the sentiment and cut it again, creating a custom sized die cut.
Now Carol added all her touches to her card. She trimmed her sandy strip down and used liquid glue to adhere it to the front of her infinity edge pocket lining up the bottom edges of both. She then added her plants and tiny images to the sea floor. Then she added her cute little characters, making sure everyone was stuck in place as she went.
As a final touch, Carol added a few clear crystal embellishments above the turtle to make just about the cutest little air bubbles we've ever seen!
Can you even? Because we can't! It's SO. STINKIN'. CUTE! Are you just itching to make one? Here's what you will want to add to your cart: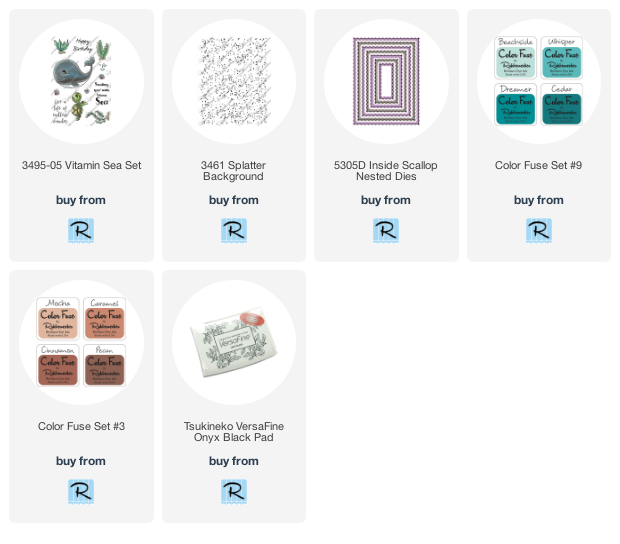 Now you've got the basics to make an infinity edge shaker card with zero fuss and no muss – are you so inspired to try this out? Let us know what you think about this design and if you make one you want to share, post over on our Facebook fans page so we can ooh and aah!