Do you like to make funny handmade cards? This is for YOU!
We love to make funny handmade cards and even created some special sentiments like this one just for that purpose. ALL cards are "good" cards but there's a special thing about funny cards and today Lisa is just CRACKING us up with this one. Once we saw that super stunning background we just knew we had to share it right away!
Let's go through how Lisa created this so you can make some of these rib-ticklers yourself!
First, Lisa cut a piece of light teal card stock larger than the stamp surface so she could have space at the edges for the magnets in her stamp positioner. And since she was stamping a larger, all over pattern, Lisa knew that even with the magnets, there was a chance a piece this large could shift, so she even added a little repositionable adhesive here and there on the back for some extra anchoring. And, of course, before setting this panel in place she gave it a good swipe with her anti-static tool!
Lisa also stamped a couple of times with a fresh application of Versamark ink to make sure that the detail of the image was nice and crisp AND because she used Wow Bang embossing powder with some larger, super reflective chunks. Is watching that reveal not one of the most fun things in stamping??
When the whole panel was heat embossed, Lisa die cut it with our largest Nested Rectangle Small Stitch die. Lisa then repeated the whole process on a lighter turquoise color card stock for the lower part of the card. Once she'd cut that lighter piece with the stitched die, she cut across it with one of our Waves dies.
To make sure the waves really stood out, Lisa used a paint brush and some Versamark ink and applied a little "edging" to the waves and added some more of that super spectacular gloss with more embossing powder (see "before" pic here and finished pic below). NOTE: Lisa discovered that her waves weren't standing out as much as she wanted after assembling her card so she added this extra step of heat embossing. We love it when our design team shares when they make "mid-stream" improvements! We don't know about you, but it sure makes US feel more confident about design decisions!
Next, Lisa used our always-popular Square Combo #1 OPC (One Piece Cut) die to cut frames from more of the darker color card stock. Save those extras!
Next up was Mr. Shark himself. Lisa popped him into her stamp positioner and stamped him once in Whisper Color Fuse and again in Silver Color Fuse to get that "killer" shark color. SO COOL! She made him extra "scary" by adding some shading to him with a glue gray colored pencil and then added some more dimension to his goggles and snorkel with a gray pencil.
Now Lisa built her card. She added her wave layers using various thicknesses of foam tape and popped her frame over them at an angle, leaving the bottom edge with no adhesive so she could tuck her shark into the frame. She added him with more foam tape and all that was left was that super funny saying which Lisa stamped, layered and then added with more dimensional adhesive.
And there you have it! We double dog dare you to find someone who wouldn't at least crack a smile at this super fun card!
Here's what you will want to have to recreate this to entertain your own friends: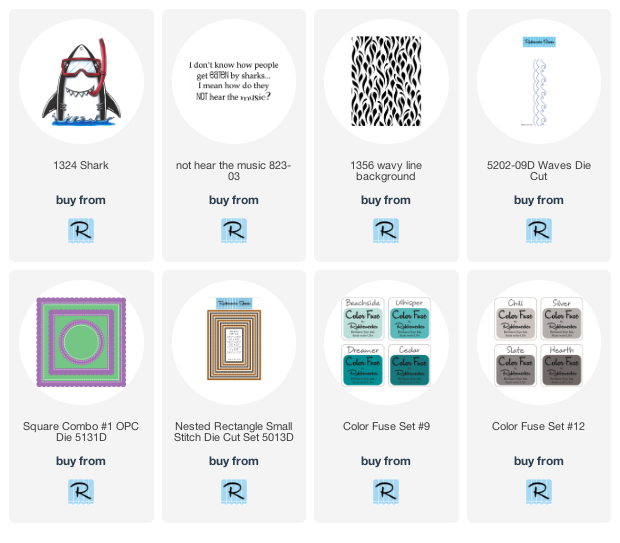 We hope you love this idea to make funny handmade cards this summer! This would even make a seriously funny invitation to any beach event! Try it out!