Are you making handmade Easter cards this year? Check out this cute idea!
With only one week to go, lots of you are looking for some ideas for making handmade Easter cards that can come together easily and still look fabulous. Well, today's project checks both boxes AND the basic idea can be used for just about every occasion, holiday, season or reason for sending a handmade card. Let's make one"
First, make your card base. Carol created this project for us today and she used a mini-technique we just love for when you use die cuts with fine detail. Cut two of our Floral Frames from white card stock and adhere them together with liquid glue. This PRO TIP gives you a finely detailed element that can hold up to being decorated, mailed and admired! Adhere that to your choice of colored panel and then pop it all on to your card base. Carol placed a large stamp block over the whole thing to keep the die cut nice and flat while it dried.
While it is drying, make that oversized tag that will be the star of the show. Die cut the largest of our Nested Tag Stitch die set from white card stock and stamp the images from our Chicks and Egg set in Copic-safe ink and color it all up with your Copic markers (or, of course, with whatever is your favorite coloring medium). Carol used two light blue markers and randomly dabbed over her background for a very cool cloudy sky effect.
Carol added a pink mat to this tag. But wait, you say, she used the largest die to cut the tag! PRO TIP: Trace the outside of a die to get a nice skinny mat for your die cut. It is the perfect size and when you have one that is all straight lines, it's a snap to cut out.
Adhere the two layers together and if you want to tie an actual bow, die cut the circle piece at the top. Alternatively, you can just tie the bow and adhere it to the front of the tag. Now just adhere your completed tag with foam tape to the card at a slight angle for a playful look.
All that's left is a little sparkle from some gems and perhaps a few touches of a clear glitter pen.
Quick and cute, right? Here's what you want to have to make this card: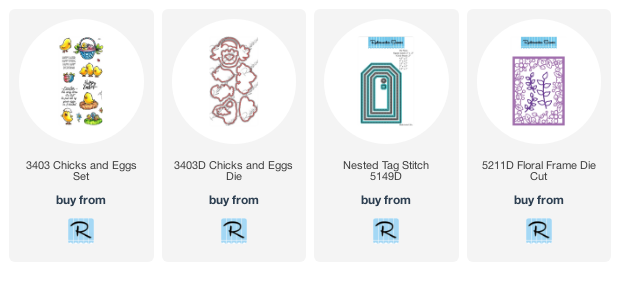 If making handmade Easter cards is still on your to-do list, try out this idea! And for sure, bookmark this post or save this to Pinterest because this idea is a keeper!