If you love watercolor stamping techniques, you are going to LOVE this project!
We share lots of fun ways to use our products and have shared lots of tips and ideas for watercolor stamping techniques. Today's project from Melinda is another fabulous take on using our stamps and watercoloring to create truly gorgeous results. And it's NOT difficult and you don't have to be "an artist" to create these stunning effects. Let's get started!
First, you will want to use a stamp positioner for this technique for the best results. You can try to line things up by eye but using a Misti or some other type of hinged stamp positioner will make it SO much easier and your results will be exact.
Now, take a piece of watercolor paper – Melinda's was about 6″ X 8″ and place it in your positioner. Arrange your flower stamps in one area of the paper (as Melinda did on the bottom half as shown below), close the lid, press and lift – the stamps will now be on the "lid" of the positioner. Ink up the stamps with two shades of your favorite water reactive ink on each stamp. Close the lid and press gently on each stamp to get a nice juicy impression.
Use a wet brush to move the ink around, adding more color if you like and moving the two colors together to get a rich, nature-like blend. When you've got that set of flowers just so, flip the paper top to bottom and repeat for the next batch of blossoms. Set this aside to dry COMPLETELY for the next step and leave the stamps in place on the positioner.
Now, choose two shades of Color Fuse ink that correspond to the watercolor inks you chose – Melinda used Fuschia and Apricot to work with her inks. Select the Color Fuse color you like best with each flower, ink up that stamp with that shade and stamp over the watercolored flower and watch the detail POP!
When your flowers are completed, go ahead and repeat the process with stamps to make your leaves. When everything is stamped and dried and looking SO gorgeous, go ahead and cut them with the coordinating dies and set them aside.
For the beautiful background panel, cut another piece of watercolor paper to 8 1/2″ X 3 1/2″ and using a shade of blue, create an single color ombre look – a gradient wash – by dampening the paper and brushing color on in one direction, from darkest at one end to no color at the other. When it is completely dry, cut it out with our Slimline OPC (One Piece Cut) Fish Scales die and adhere to your card base.
Arrange your flowers cascading down the card and when you have your arrangement the way you like, adhere the images to the card using a variety of thicknesses of dimensional adhesive. Tuck in your leaves and then add your sentiment – here Melinda die cut it into an oval to complement the curves on the fish scale detail – and add it with foam tape.
Don't you just LOVE how that detail added over the watercolored petals adds such a visual treat? Here's what you will want to use from our store to make this card: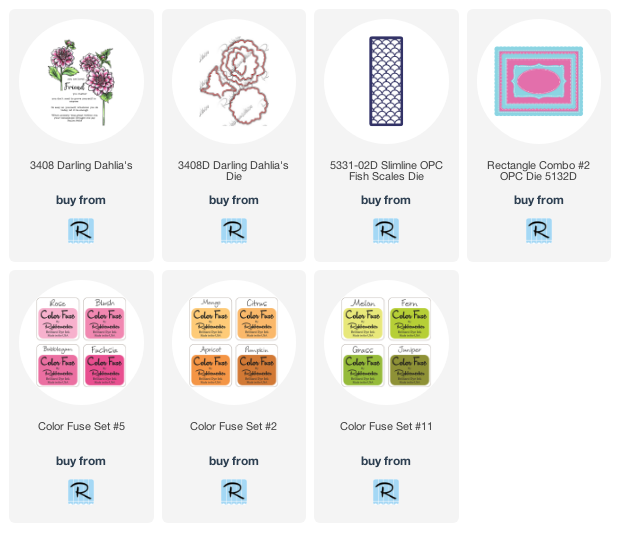 We hope you save this to your watercolor stamping techniques file because there are SO many different stamps we can see being used this way. Share your own creations with us on our Facebook page so we can ooh and aah!