Our layered floral stamps are the perfect complement to mini slimline cards!
We get so excited when we see mini slimline cards with layered floral stamps from our extensive collection of these easy to use but oh-so-gorgeous stamps. There's something so special about letting these gorgeous blooms take center stage on these smaller versions of the fun shape and scale of a slimline card. And did you realize that mini slimline cards are the PERFECT size for a check, cash or gift card? And they take regular postage? So you can create something truly unique and gift worthy every time.
With that in mind, Colleen has made us a fantastic little free tutorial video showing how she put this card together and then we have all the steps after so you can sit right down and make this card! Pay special attention to her tip for how to make an easy background!
Isn't that card so pretty! You can use any of our layered flower sets to apply these same fun tips so you can make a stack of these cards and they can all be identical or completely different and every one will be a stunner! Here are the steps written out:
First Colleen cut two pieces of white card stock with the two largest dies in our Mini Slimline Tabbed Deckle set, setting the larger one aside.
She then stamped layers 2 and 3 from the flower stamps in our It's Springtime set using Lemon and Custard Color Fuse Inks from Set #1 randomly over the smaller die cut panel. Colleen suggests stamping five or six times around the edges and just a couple of times in the center.
She then adhered the stamped panel to her larger die cut panel with her tape runner and then adhered both to her mini slimline card base.
Now Colleen stamped all the layers for both flowers – two large and one small – using the shades of ink in Color Fuse Set #5. She started with the lightest working her way to the darkest for the most detail, stamping her darkest shades multiple times for even more detail and richness.
She then stamped all of the leaves from the same stamp set using Fern and Juniper Color Fuse Ink from Set #11, using Fern for the inside and Juniper for the outlines. Colleen then die cut her flowers, leaves and more foliage pieces using our Leaves & Greenery die from white card stock. She then applied Fern and Juniper ink to her extra greenery pieces to create a custom color match.
Now Colleen adhered her two larger flowers to her card using dimensional adhesive and added leaves and greenery around them, tucking them in and around the flowers, using liquid glue. She then tucked her smaller flower into the scene with more liquid glue and no doubt swooned over how pretty it was!
Her last steps were to stamp her sentiment in the upper left hand corner with black ink and added a few colored pearls for just a touch of sheen.
We just love how those flowers look like they were designed specifically for the size and scale of a mini slimline card! Any of our Color Fuse sets can be used to build these flowers and every one will look just as rich and vibrant.
Here are the products Colleen used today: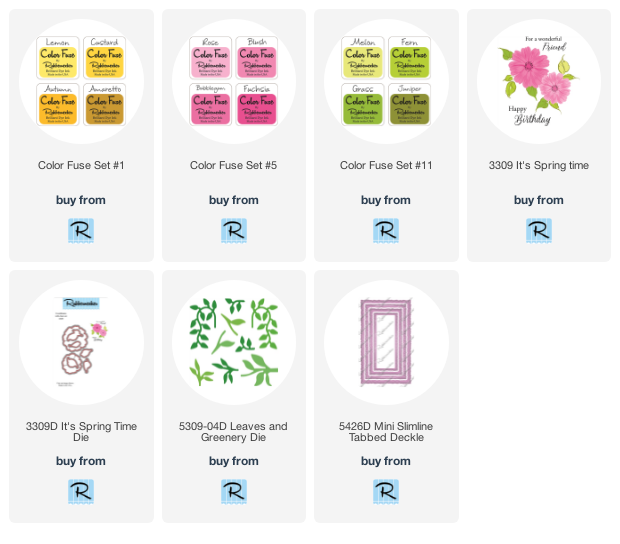 By the way, did you hear Colleen mention that it's our birthday month? That's right – this month we are celebrating our 29th anniversary of creating and sharing fabulous paper crafting goodies with all of YOU – our loyal fans and customers. So what better way for US to celebrate than to give? This week (Feb 7 – Feb 13), for every $29 you spend in our store, you will receive an entry into our Birthday Raffle. Check out that prize!!
The next time you are pondering what to make in your card making session, we hope you try out some mini slimline cards with layered floral stamps to get all that WOW without a crazy amount of work with GORGEOUS results like these!