Mixed media Christmas cards are a fun way to use all kinds of different things for a fabulous, luxe look!
Today we are very excited to share one of Melinda's ideas for mixed media Christmas cards. Melinda said she was inspired by all the bits and pieces in our Santa Post Card set that came out last year. We adore her way of incorporating so many of these images and in such interesting ways. Let's take a closer look at how she made this magnificent card.
Melinda started with a few pieces of watercolor paper and, using Ken Oliver liquid watercolors and Color Bursts, splashed and dabbed different shades on each one. She did one set of darker greens on one piece, lighter greens with yellows on another and a third in pinks and reds. She set these aside to dry while she made her next piece.
She took a panel of watercolor paper and brushed it all over with water to get the whole surface wet. She used the Tangering and Fuchsia Ken Oliver liquid watercolors and moved some dabs about over the surface, being sure to leave some areas uncolored. PRO TIP: Leaving some spaces uninked helps create the visual movement that makes cards so enticing to look at.
When this panel was completely dry, Melinda started stamping the smaller stamps in the set using Caramel and Mocha Color Fuse Ink in random spots. She also stamped a few in gold ink, making sure to let it dry thoroughly so she could also stamp our Script Border #1 partially and randomly using Hearth Color Fuse Ink. She then used our new Brick stencil and some embossing paste to add some touchable texture. When that was completely dry, Melinda added even more delicious texture by stamping our Lots of Random dots with metallic gold ink and a little more color wash around her bricks.
One of the most fun things about mixed media cards is that the more random and unstructured these cards are, the better they look! So don't worry about making everything "line up" or balance – when you add your focal elements over your backgrounds, their beauty will really shine!
Speaking of focal elements, Melinda now turned her attention to her minimalistic holly wreath. She placed two circles from our Nested Circle with Pierce dies onto her scraps – taping with old washi so they didn't wiggle – and cut four white rings. She adhered these together with liquid glue and made a nice, thick element to hold her greenery.
Melinda cut her lighter green watercolored paper with our Greenery #1 die and the darker piece with our Holly #1 die. She also cut extra berries from the pink and blue pieces. While she had her machine out, Melinda also cut a piece of white card stock using our Rectangle Combo OPC #4, keeping the reverse scalloped frame for this card and saving the rest for future projects. PRO TIP: Keep the extras in the die pocket or with the die for fast access.
Now she arranged her greenery over her white ring, adding them using more liquid glue as she went, adding the berries as she laid down the holly pieces.
She stamped her sentiment onto a scrap of white card stock and trimmed it closely into a simple rectangle.
Now she adhered the frame to her stunning background panel with adhesive tape. Then to make sure the greeting was placed correctly, Melinda set the circle over the panel, chose where to place her greeting and then adhered the greeting and then her wreath. She then looked to see where to add any more greenery and berries and when she was satisfied, Melinda added her gorgeous mixed media panel to a white card base and this project was ready to truly impress someone!
Here are the items from the shop that Melinda used today: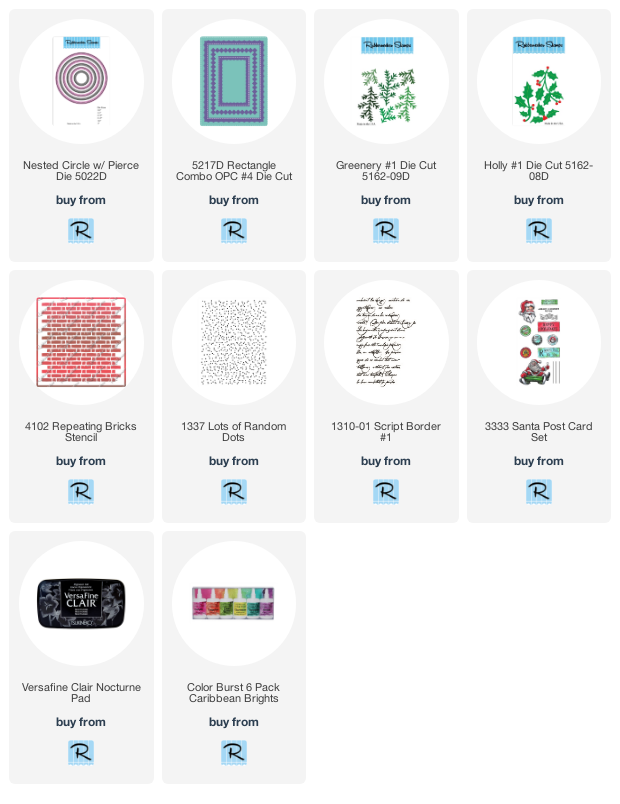 Does this make you excited to try making mixed media Christmas cards? As we mentioned, the beauty of this style of card making lets you use anything you want to create a beautifully, deliberately unstructured background to show off your main star, which could be anything at all! Try it out and let us know what you think!