Check out a modern greeting card design that you can use over and over!
Today we have a fresh and exciting modern greeting card design from Melinda and we love how the basic elements of this design can be used over and over for endless card making opportunity. Melinda came up with this idea when making a card for a friend who loves container gardening and the Danish modern design. We think she totally nailed her inspiration with this spectacular card. Let's see how she did it!
She started with a white card sized panel of card stock and stamped our Cobblestone background stamp onto it using Amaretto Color Fuse ink. She set that aside and got to cutting, using one of the elements from our new Large Garden Pots die to cut one pot from a blue textured card stock and two of the same pot from white card stock. She also cut some leaves with our Small Leaf Group die from a patterned paper in shades of green and last, cut the graphic element from tan card stock using our Crosshatch design die.
We want to take one second to thank you all for the amazing amount of positive feedback we've received for all of the dies from our March 2021 release. You all are still snatching these up and we've heard from you that you LOVE the new size and scale and designs. The reason we are mentioning this here is that we love that you all are so crazy over these garden pots and the watering cans in the collection! Who knew that the containers would be as exciting to you all as the flowers! So thank you for letting us know that you love them!
OK – back to Melinda's card! She added some Beachside and Silver Color Fuse Ink to the edges of her foliage to add some dimension and did the same with more Silver to the edges of her pot. Then she adhered her die cut pots together in a stack with some liquid glue to make a nice, thick element. She arranged her foliage in the pot, adhering from the back with more liquid glue, in the arrangement she liked, reserving one leaf.
She added the Crosshatch die cut with liquid glue over her cobblestones leaving about 1/3 of the stamped panel uncovered and making sure there was enough space in the lower left for her die cut element. She stamped her greeting in the lower right hand corner, just under the die cut. Melinda then added her pot to the panel with adhesive tape and added that reserved leaf over the edge of the planter lip as a tiny but darling detail.
She added that panel to a white card base and the card was ready to go!
Here are the items you will want to have out or add to your card for this fun contemporary card design: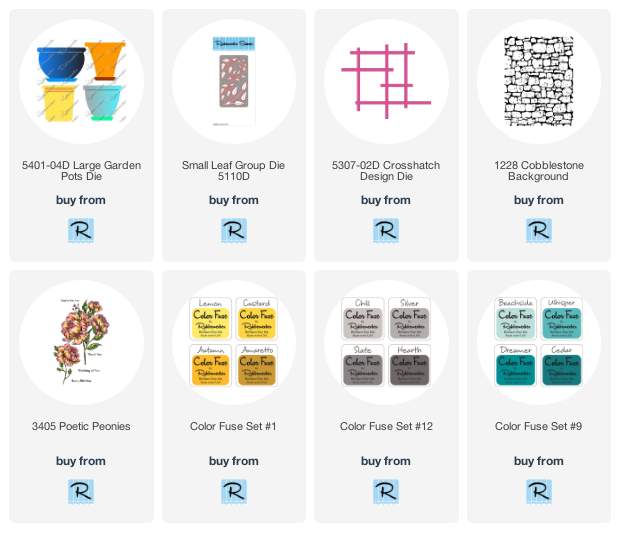 This card is proof that modern greeting card design does NOT have to be boring or overly simple or even, dare we say, NOT pretty. You can swap out so many of the elements in this card, change the greeting, the colors – anything – and have a striking card perfect to send to a friend!