Even though this is an idea for a quick and easy birthday card, it is still LOADED with adorable details!
We all love ideas for a quick and easy birthday card but, frankly, if we are going to bother to make and send one, we don't want it to be boring, right? Today Natasha is giving us both quick and easy AND just delightful all in one – let's take a closer look!
Natasha used our brand new two part Bold Rose Stencil for her detail panel and used our Color Fuse Ink with it because, as she says, "these colors blend BEAUTIFULLY!" (Our designers are on a Color Fuse kick these days!) She taped down the leaves stencil onto some white card stock first and blended Moss, Clover and Basil from Color Fuse Set #10, starting with the lightest and moving to the darkest for the depth. She then removed the leaves stencil, replaced it with the rose portion and then blended Rose and Blush from Color Fuse Set #5.
She then cut that piece with our Borders #2 die for her first special detail. Adding that decorative edge and on an angle sets the card up to have a playful feel and adds visual motion. (Details and images are a little out of order but sometimes we just can't wait to show you all the fun things!)
Next she stamped the cake slice from our new Dessert set in Versafine Clair Nocturne and heat embossed with clear embossing powder. This is another little detail that adds gloss and more visual texture. She colored this in with her markers, letting each layer of color dry before adding another to keep them from getting muddy. When done, she cut the cake out with the coordinating die.
Now to put it all together! Natasha added her stenciled, die cut detail piece to a white card base with tape runner and added her cake with dimensional adhesive at an opposing angle from the die cut edge. This adds more visual movement and is proven to make the brain more engaged with what it sees. Natasha then stamped a sentiment from our Build a Phrase 1 in Versamark ink onto a scrap of black card stock and heat embossed with white powder. This is another detail element that adds a lot of punch to the words and the black card stock picks up the black outline of the cake. This too was added with foam tape for depth, dimension and shadows for that visual texture.
Last, a few sequins placed above and beside the focal elements which continues that visual movement and adds a teeny bit more of that light reflective element.
SO cute, right? Here are the items Natasha used today: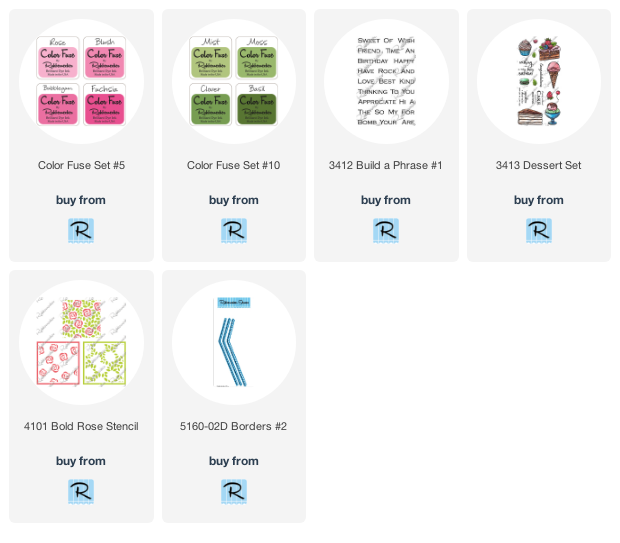 How "sweet" is this card? And you can see how adding small, easy details like adding elements with dimensional adhesive, using little bits of reflective media, angles and decorative edges and pops of bold color can take a quick and easy birthday card idea and turn it into something truly special!