When you make an ombre look with a stencil, everything matches up perfectly and shows off your colors!
This refreshing handmade summer card gets a lot of its impact from Jamie's using a fun way to make an ombre look with a stencil she cut herself using one of our dies. This is such a clever way to make your supplies do more than one task and we love how her card shows off how beautifully our curate Color Fuse color sets work together. Let's take a closer look so you can make this, too!
Jamie started by taking a card panel sized piece of pale blue card stock and cut across it about 1/3 of the way down with our Waves die. She then took the portion that was cut off from the top of the panel and used it as her stencil. She placed this across her die cut piece and, starting with the lightest shade in Color Fuse Set #8, applied ink through and over this stencil, moving it about the same distance every time, to the darkest color at the bottom.
This is such an artful way to show off how perfectly those colors work together! We spent a lot of time (and probably drove the company nuts) making sure that every shade in each Color Fuse Set would work side by side to offer these beautiful ombre style colorings and, at the same time, be able to accent each other as either detail colors or as highlights. When we were developing this exclusive color line, we heard loud and clear from all of you that you wanted colors that would work together within their sets AND with each other outside of sets and based on how these are gobbled up, we nailed it!
Jamie stamped her greeting from our Under the Sea #2 with Versafine Onyx and heat embossed with clear powder to give it a wet look to go along with her theme. She adhered her beautiful ombre waves to a white panel and then adhered that to a card base made from the same light blue card stock she started with.
Now she made her little sea friends by stamping the fish from the same Under the Sea #2 set on watercolor paper in black ink and heat embossed in clear to echo the wet look of the greeting. She watercolored her fishies, cut them out with the coordinating die and added them to her scene with some foam tape. A couple of little seashell sequins and this card was ready to go out in the mail!
So summery and so sweet! Here are the things Jamie used to make this card which we can see being used for loads of different occasions during the summer: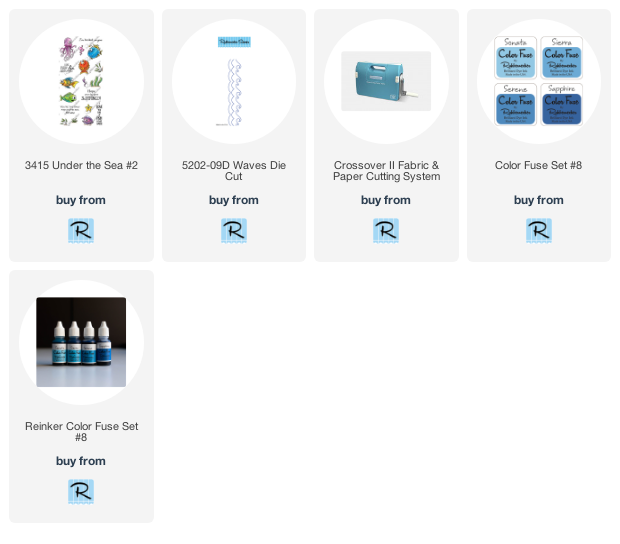 Can you believe you can get such a great ombre look with a stencil made from a die cut? Any stencil can help you achieve this gorgeous look – we are picturing leaves with Color Fuse Sets #10 or 11, cobblestones using our new stencil and Color Fuse Set #12, our new Honeycomb stencil with Color Fuse Set #1…..OK – we have to stop – we are getting totally distracted! Have fun with this easy technique!