Get all the New Rubbernecker June 2023 goodness!
It's release day and that means we get to share with you all brand new Rubbernecker June 2023 goodness! We have such a fun sampling of new Paper Pads (which you are going to LOVE), fun summer dies and some decorative elements that will bring a new look to your projects with just a spin in your machine.

Let's get started!
First up we have two new 6 X 6 Paper Pads designed by our very own Design Team member, Melinda Stearns. Melinda is a very talented watercolor artist and we are beyond ecstatic that she has shared her talents with us in these two collections of stunning designs. Based on her expression in this photo, we think she's pretty excited, too!
First up, we have our new The Scenic Route 6 X 6 Paper Pad. This collection is a combination of beautiful little scenes with coordinating patterns, allowing you to add gorgeous watercolor vistas to your projects. Take a peek at all the different pages you get in this stunning collection.
And here are some cards made using these designs.
Then Melinda took us from a landscape perspective to something more abstract and every bit as beautiful. The new Watercolor Beauty 6 X 6 Paper Pad is loaded with brightly colored patterns that will add instant pop and texture to your projects. Take a look at these gorgeous designs.
We just cannot make enough coffee things it seems. Every time we come out with something new that is coffee themed, you all go bananas! And we are here for it! To add to our collection of all things caffeinated, we are adding this Java Good Time 6 X 6 Paper Pad. Just look at all those fabulous patterns, a few of which you might recognize from some of our stamps!
Our Design Team members went crazy beans over this collection so watch for it in lots of upcoming projects. Here are just a few that really show off these patterns.
Now for the crafty people…..wait – that's all of us! We created these two sets to complement the artistic pursuits of many of our fans and friends. These dies also make fabulous cards to sent to artist friends and even for little ones who just love getting their fingers all sticky with art supplies.
First up is our Painters Set die – it makes all the little parts and pieces you need to create everything a painter might need to create their next masterpieces.
Check out how stinkin' adorable these cards turned out using this set.
You can't do much with an easel and tools if you don't have the stuff to make color! Hence, our detailed Art Set die, complete with all the things an artist needs to bring their vision to life.
Just look at all that detail – is that not so fun? And the dies do all the work – just cut your scraps, adhered them together and – voila!
We say the best weather for crafting is……….whatever weather you have! Our new Rainbow and Clouds Die set has everything you need to set the scene for whatever weather you want to show.
Here are two cards that show off that little rainbow to perfection.
For those summery vibes that are so fun to share, we have this new Palm Tree Frame Die. You can make so many different fun summer scenes using all the little components. This is great for quick and easy cards, too!
Check out all those fun little details! Do you see the little sun from the new Rainbow and Clouds die?
Adirondack chairs are classic elements, not just for the summer. We wanted to create a die set that would give you options to add these to any scene so we have our Adirondack Chair Front/Back die set. This way, you can position these any way you want and create those irresistible, inviting scenes.
Don't you just want to plop down in this seat and watch the waves?
Our Shed and Shed Add-on Dies have been very popular. So you know we had to create something that was all about the summer. We present our Shed Add-on Beach Shack! Is this not SO FUN?
Look at all those fabulous, fun details! We cannot wait to see what you all do with this!
Keeping with the summer theme, our new Scuba Set die has all the accessories someone might need to really explore the waters. We added lots of details to this set so you can make something that is so realistic.
Here's a great card that shows how all those details really pop!
Our new Suitcase Die is, of course, perfect for the traveler. It would be the perfect element to use on a Bon Voyage card!
That said, is this not such a gorgeous and unique way to use a beautiful vintage suitcase on a card?
And last, we have another set to add to our decorative dies collection, our Decorative Rectangle #2 die set. As with all the other dies, this set cuts so beautifully and gives you instant layering and framing for any kind of card.
When you use them together, as on this card, you can see how just a few spins in the machine, a quick sentiment, some patterned paper and one tiny embellishment is all you need to make a standout card!
Here are all the new goodies – sign in on the store and then just click to add what you want to create a shopping cart.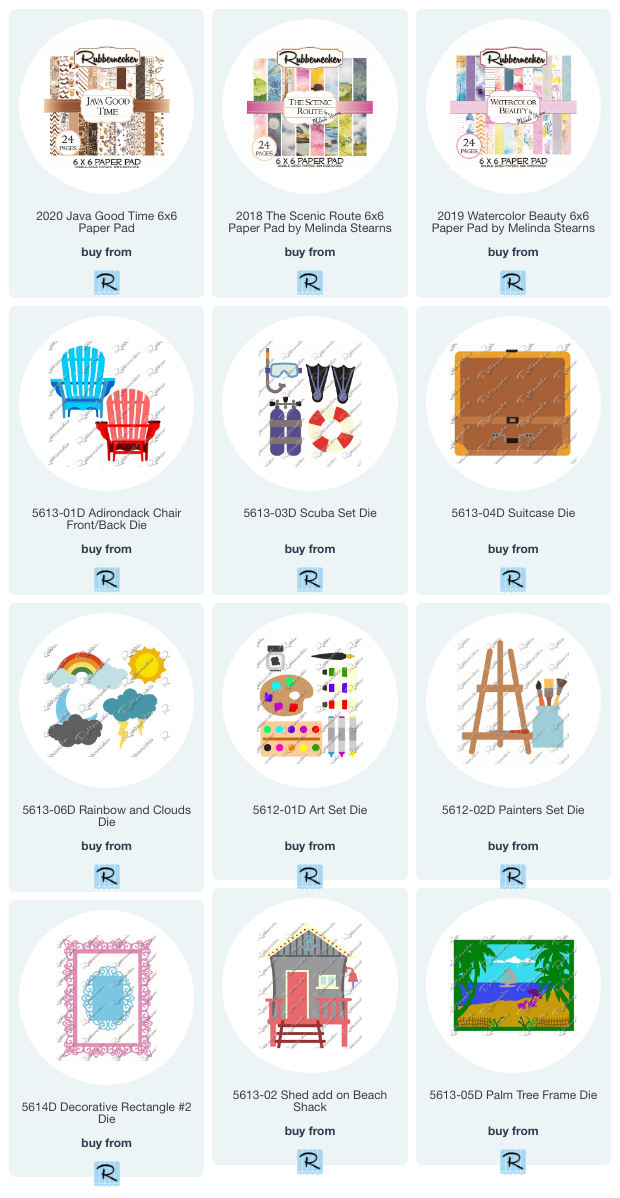 All these new from Rubbernecker items are stocked and ready to send so get your order in and try not to stalk the delivery guys until they arrive.