This stenciling technique with masks adds so much to a card with almost no extra work!
We love using stencils and masks together because you can get so much visual interest with so little extra effort – just a little inking! Today's stenciling technique with masks to add both containment and highlighting is SO easy and, well, just look at that card! Melinda is going to take us through this and you will love how easy it is to do!

Melinda says she was inspired by some cool techniques she saw on Pinterest and we had no doubt that she quickly surpassed what she saw. Let's get her inside scoop.
First, Melinda made her own mask using a diamond shaped die. You can use any shape you like – diamond, square, circle – and make sure you keep both the positive and negative pieces as you will use both on this project.
Melinda laid our Sun Burst stencil over her card sized panel. NOTE: Melinda used small pieces of low tack tape – you can use that yucky washi tape you don't know why you have – to hold each layer in place. She then placed the outer portion of her die cut mask over the stencil over the card base, making sure it was centered and tacking it down.

She then blended some Lemon Color Fuse Ink from Set #1 over the rays.
Then she blended some Bubblegum Color Fuse Ink from Set #5 over the inside of the rays to create a hot orange shade.
Melinda removed the mask and then the stencil. She replaced the mask over the inked area and use a touch of Citrus Color Fuse Ink from Set #2 to the center of the sun.
Next, Melinda took a piece of white card stock and cut it with our Evergreen Forest Die. Leaving the die cut in place, Melinda blended some Melon and Fern Color Fuse Ink from Set #11 over the trees, going from very light at the bottom to a little darker at the top for an ombre look.
Melinda now her stenciled panel with the largest die in our Nested Rectangle w/ Pierce die and adhered her pine trees across the bottom, overlapping the sun rays. She laid her diamond shaped mask over the stenciled area and using Azure and Serene Color Fuse Ink from Set #8 around the mask, darker toward the design and lighter as she moved away from the sun rays on the top two sides.
Here you can see the shading and how Melinda stamped above the "tree line" for some dramatic impact.
Melinda adhered her stenciled and inked panel to a card base using some dimensional foam adhesive and trimmed the evergreen trees at the edges of the card. She stamped her sentiment onto a scrap strip of white card stock, trimmed it down, cut one end on an angle and adhered it to her card.
Melinda said she was also inspired to try out what she saw by the beautiful colors of our Color Fuse inks and they show off so spectacularly here – we just love it!
If you are itching to make this card, here are the things Melinda used – sign in on our website and you can add things to your cart from any of the tables on our posts: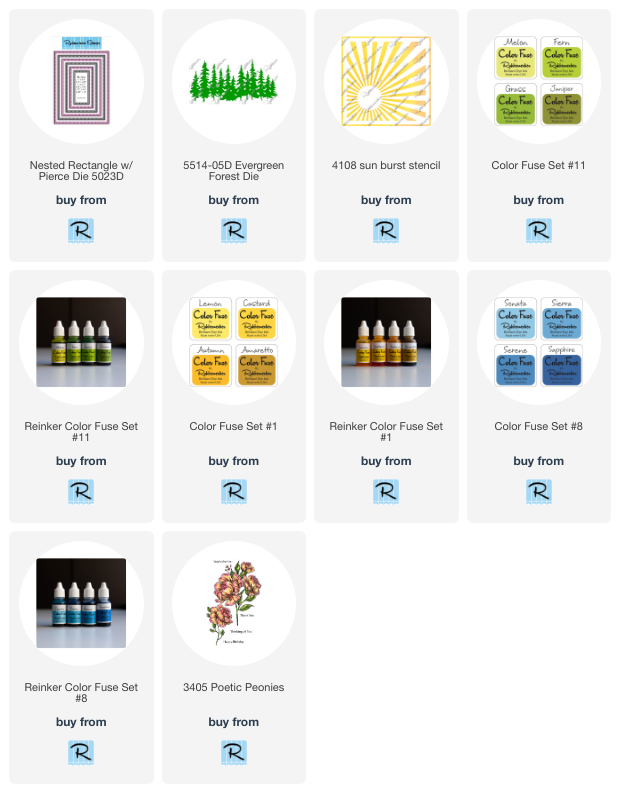 This stenciling technique with masks of any size or shape really shows off the designs you can make with our stencils. With so many designs to choose from, all the glorious Color Fuse shades and masks made in any shape you want, this technique gives you endless creative options!