Easy to make – hard to stop staring at!
This ombre rainbow background is one of the most delicious things we've seen! The way these colors blend together over this shaker card background makes this card look like so much greater than the sum of its parts. Allison took some basic birthday elements and combined them with this super colorful, can't-stop-looking-at-it background to make a card that is truly a knockout! Let's get her inside scoop.
First Allison used the largest die from our Mini Slimline Tabbed Scallop Stitch set with the second largest die from our Mini Slimline Nested With Stitch set to make a frame for the top of her shaker card. We did specifically design these dies to work together so you could create your own style of frames and panels for your cards. Allie adhered a piece of acetate to the back of the frame to make her window and then added narrow strips of dimensional adhesive to the back to make the shaker front.
She then used our Birthday Script With Shadow die set and cut the shadow and the script from scraps of white card stock and then the script portion again once from a scrap of gray card stock. She adhered the white script over the gray with liquid adhesive, offsetting just a bit to create that gorgeous shadow, and then adhered both to the shadow portion. The then adhered that over the center of her window with some more dimensional adhesive for even more depth and dimension.
To create that stunning background, Allie started by stamped a mini slimline sized card panel of white card stock withthe background section from our new Happy Birthday #1 set in Versamark ink and then heat embossed it with white powder. She then blended her shades of Color Fuse ink over the panel starting at one end and gradually adding her shades moving up (or down) the panel. She allowed the colors to overlap just a bit to allow each shade to "melt" into the next one. When she was done inking, she used a tissue to wipe off the ink from the embossed images to allow them to pop through.
She adhered this panel to her card base with her tape runner and made a little pile of her shaker filler in the center. Allie included some iridescent sequins in her mix to reflect that beautiful multi-colored background. She then carefully adhered her window frame over the card and finished it up with a few Nuvo drops over the acetate window for more textural interest.
Wow! Isn't this so spectacular? And so easy to make!
Here are the items from the store that Allie used today: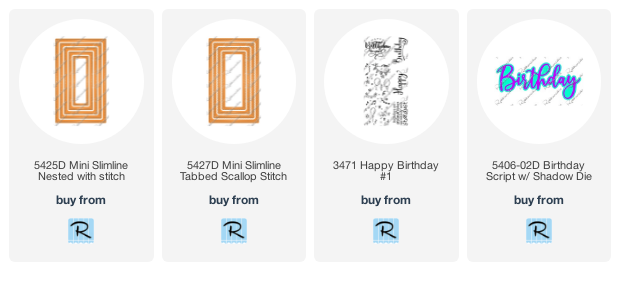 Make sure your order totals at least $29 so we can pop one of these into your package – it's our FREE birthday gift for us for YOU!
Here's that beautiful card one more time.
We sure hope you try out this ombre rainbow background idea on one of your cards! It's so perfect for mini slimline or even full sized slimline cards because, in this case, the more colors the better!