Our designers are on FIRE with on trend Christmas card ideas 2022 specific – like this one with the "Enchanted Ilustrations" trend.
If you've been doing any poking around on the web, you know there's quite a but of talk about on trend Christmas card ideas 2022 style. One of the charming looks being shared is using what is called enchanted illustrations to decorate handmade cards. These are defined as somewhat whimsical, sweet and colorable drawings of all types used to either accent or star on a card.
Today Melinda has put her own spin on this with a card that is so easy to make, perfect for batch making and ideal for making in front of a good binge-worthy show! Let's take a look at her magical touch so we can create some of these truly enchanting cards.
Start with a piece of watercolor paper cut to the card size. If you have a stamp positioner, you may want to use it. But Melinda says "you don't have to if you don't have one. The look will come out a little differently as you won't be able to line it up perfectly, but with this style no one will be the wiser." We LOVE it when this happens – lol!
Using a stamp that has not yet been release bit will be very soon – stay tuned for a Christmas in July surprise! – color each different element with water soluble markers one element at a time.

Spritz with a fine mist of water and stamp. Remember, the finer the mist, the softer the effect!
Use a wet brush to move the color a bit behind the berries and the holly leaves and over the evergreen needles to create a colored in look when you stamp the detail layer. Repeat with each color and element.
When you've colored and stamped each part of the design, color over the elements one more time, mist very lightly – hold the stamp far away to catch just a bit of the mist – and stamp again to add the details of these sketch style illustrations over the soft colored areas.
To create a little "field" to float your greeting, add a little light blue to the center of the illustrated frame. You can do this with another marker or a little bit of Arctic Color Fuse Ink from Set #7. Start your application in the center and use a wet brush to blend it outward (this way, if you have a darker smudge from that first touch, it will be covered by the greeting).
When your art work is completely dry, cut it with the largest die from our Inside Scallop Frame die set. Then using the smallest die from our Nested Rounded Corner Rectangle Small Stitch set, cut the very center of the panel.
Adhere the stamped panel to your card base with your tape runner. Stamp your choice of sentiment onto the little center die cut and adhere back over the space with some dimensional adhesive. Add a few colored pearls or gems for a touch of shine.
Can you even? Is this not the sweetest card? We love the pretty watercolor look with the lovely sketch details over it all. And that fun sentiment section trick? We are totally "stealing" that for other cards!
Here are the dies Melinda used – come back soon to see that Christmas in July surprise we have for you all. The elves are BIZZZ-EEEE!!!!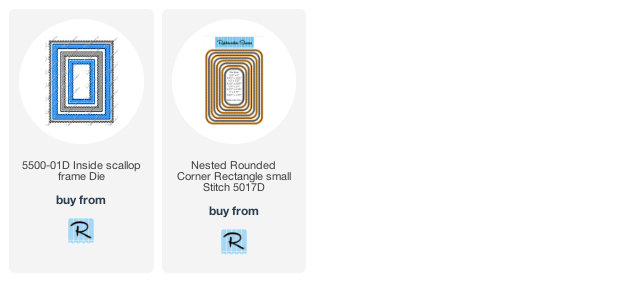 We hope you are enjoying getting some early scoop on all the on trend Christmas card ideas 2022 ready that we are sharing. There's nothing quite like having all your gorgeous handmade holiday cards ready to go when the time starts to tick down!