This sweet and charming snowy holiday card is perfect to send to people who don't celebrate Christmas.
While sending cards at Christmas is a long tradition we know that not everyone celebrates Christmas. And making different sets of cards isn't always feasible. This adorable snowy holiday card could be the perfect solution – you can use this caring non-denominational greeting on some and, if you want to be Christmas specific, you can use a different greeting for those people you know do celebrate the day.
We love the way Lisa used our new Polaroid frame die to build this cute scene – it adds that little sumthin' sumthin' extra that takes a project up a level. We designed these dies because when we shared this card from Lisa and this card from Carol we got asked about dies for these cute, iconic elements and, when we can, we use your wishes as our commands! Let's take a look at the making of this card and see if isn't one you want to add to your Christmas cards for 2022.
Lisa had a gel print panel leftover from one of her mad crafting sessions (wouldn't you just love to be a fly on the wall in her studio?) where she used our Snowflake Stencil and some acrylic inks in shades of pale purple to make this snowy background. She cut this with the largest die from our Nested Scallop with Half Holes die set.
She then cut a piece of craft foam down to about 4″ X 3 ½" and adhered it to the back of the scalloped die cut. This is a fun way to add a firm, all over layer to lift an element up on a card instead of using pieces of dimensional adhesive. It's a great option for a card that will have a lot of elements on it so that the card doesn't collapse in between those details.
Lisa then trimmed a piece of pale purple card stock to 5 ⅜" x 4 ⅛" and adhered it to a white card base and then adhered her pretty scalloped background to the card.
Taking a piece of white card stock, Lisa cut it with the larger Polaroid die and then cut a hill from white glitter paper with one of our Stitched Hills dies. She trimmed the hill to the width of her Polaroid frame and then adhered the hill to the back of the frame so it showed from the front.
She added dimensional adhesive to the frame and adhered it to her card at an angle.
For her charming cast of characters, Lisa stamped and colored her choice of images from our Wintery Friends, Snowmen with Presents and Christmas Inchies, cutting them out with our coordinating dies when done.
She arranged her little winter friends around the scene so they appeared to be looking up at the snow falling.
For her sentiment, Lisa stamped her greeting – this one is from Wintery Friends – with VersaMark on vellum and heat embossed it with gold powder. PRO TIP: Use card stock weight vellum when heat embossing to prevent scorching. If you don't have it, make sure you heat much more gently, from further away and from both the top and from below to make sure the vellum doesn't burn or curl. Lisa trimmed this into a rectangle and adhered it to the card with some clear dimensional adhesive to let it have a little shadow.
Lisa finished off this darling card with a few snowy sequins and it was ready to just warm someone's heart!
Truly adorable and such a lovely way to send a holiday greeting that is not Christmas specific. Here's what Lisa used today to make this for us: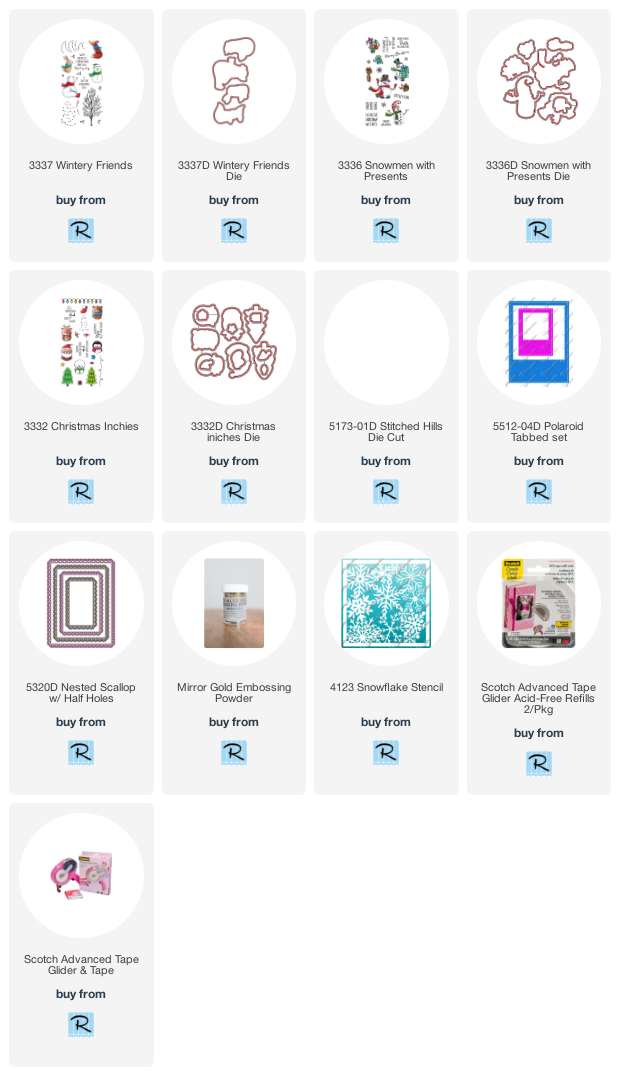 If you are looking for something to send this Christmas season that is universally appealing, we highly recommend this snowy holiday card – it will make everyone and anyone feel the love!