If you are on the hunt for cute mini slimline snowman card ideas, this just might be your last stop!
With mini slimline cards still so hot and snowmen being just so dang cute, then it's no surprise that slimline snowman card ideas are always in demand. This super cute card with its winter holiday but non-Christmas specific greeting is an ideal card, much like yesterday's project, to have to send to anyone and everyone this holiday season.
Plus, this is another card that is perfect for mass producing. Each element can be broken down to create separately and then the cards can be assembled all at once or also in stages. This makes getting your 2022 holiday cards done early so much easier and at a pace that you can enjoy making them, rather than be in a panic at the end of the year!
Want to make one of these cards from Allison? Let's go!
Start by doing some die cutting. Cut one Mini Slimline Cover #3 from white card stock, cut another piece of white card stock with our Floral Swirl Pierced Cover die and then a third scrap of white card stock with the small die from our Nested Circle Scallop with Holes set. Then use the medium die from that same set to cut a purple scalloped circle.
Using a snowflake stamp – this one is from our Snowmen With Presents set – stamp snowflakes all over the floral swirl die cut piece with Lavender Color Fuse Ink from Set #6 all over randomly.
When done stamping, trim this piece to fit behind the mini slimline diamond die cut and adhere them together. Layer this over a piece of dark purple paper cut to offer a narrow border and then attach everything to your mini slimline card base.
Stamp your sentiment onto the white scalloped circle with black ink and pop it onto the purple circle with some dimensional adhesive.
Now use what may or may not be a brand new set that is part of a surprise coming soon to stamp your adorable snowmen, color them in and cut them out.
Adhere your sentiment assembly to the center of your mini slimline card with tape or liquid glue and then add your charming characters with dimensional adhesive. For lots of visual movement and to add to the whole fun vibe of this card, liberally add shaped sequins to the card wherever you like.
Beyond cute, right? And remember, these cards are the ideal size for cash (think tips for service people) and checks.
Here's what you will need to replicate this card. Note that you ARE getting a sneak peek of something coming and you won't be able to add it to your card until release day. So bookmark this post to snatch them up!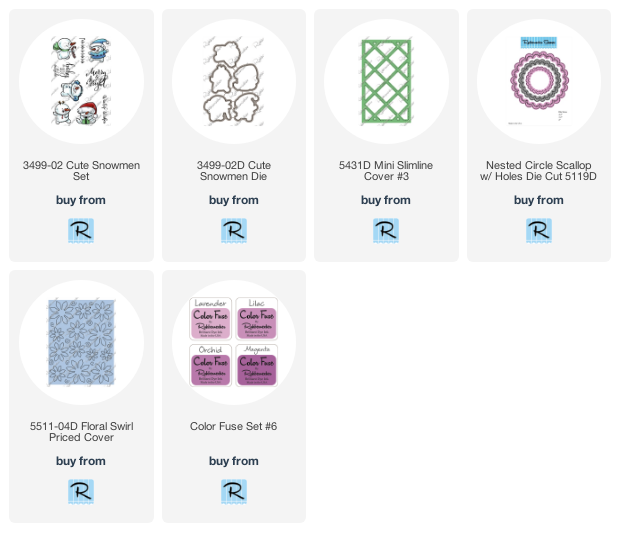 You might see other mini slimline snowman card ideas out there, but we are betting that this might just be the cutest! What do you think? And are you excited about our Christmas in July surprise we've been teasing? Let us know…..