Make this pretty Gerbera daisy card design as is or swap out YOUR favorite blooms!
Today's super pretty Gerbera daisy card design is from Annie. She created this for us because, in her words "Gerbera daisies are my favorite kind of flower, so I knew right away that I wanted to stamp all of the beautiful blooms from the Layered Daisy Bouquet Stamp Set in tons of bright colors." We just love how she's used those colors to bring these flowers to life and we can't imagine someone not receiving this card and instantly feeling their spirits lift.
Want to make one, too? Let's get started!
Make Your Gerbera Daisies and Sentiment
Using our new Layered Daisy Bouquet stamp set, stamp the three different sized of flowers using the shades from Color Fuse Sets #1 for the yellows, #2 for pretty shades of orange, #4 for coral-y reds and Set #5 for beautiful fuchsia tones. Stamp some leaves using Grass and Basil Color Fuse Ink from Sets #10 and 11, respectively.
A project like this is when it's handy to have every glorious shade of Color Fuse Ink at your disposal. You can get the entire collection with one click and at just $3 each you can have the most beautifully coordinating, perfectly blending, long lasting a color true ink out there right at your fingertips.
Once you've stamped all your gorgeous Gerbera daisies, die cut them and the leaves out with our coordinating Layered Daisy Bouquet die set and set them aside.
Stamp your sentiment – Annie chose one from our Color My World Florals set – with VersaMark onto a scrap of white card stock and heat emboss with silver powder. Trim your sentiment closely with a paper trimmer or paper snips.
Create your Cool Card Background
Using our Plaid Cover die, cut a piece of white card stock and piece of silver metallic card stock. Using your paper trimmer, slice a sliver off the the bottom and right edges of the silver die cut. Apply some dabs of liquid glue (we are partial to the dab and swipe with a finger method) to the back of the white die cut and layer it onto the silver, lining them up so the silver peeks out from behind the white evenly around all the cut outs.
This reverse shadow situation adds tons of detail and dimension with just two easy spins through your die cutting machine and can be done with any of our cover dies in lots of different color combinations for very beautiful details.
Put Your Pretty Gerbera Daisy Card Design Together
Trim a piece of pale blue card stock to card front size and adhere to your card base with your tape runner.
Adhere your plaid die cut assembly to your card with liquid glue.
Adhere your Gerbera daisies over the top left and bottom right corners of the card, letting the flowers hang off the edges to give the eye that continuity that makes the scene irresistible. Adhere them with a variety of flat and dimensional adhesive to accent the depth and shadows.
Using long bladed scissors or a paper trimmer (with the card placed face down) trim off any overhanging petals and leaf tips.
Add the sentiment in the center with some dimensional adhesive and this beauty is ready to bring huge amounts of cheer to someone special!
As we said at the top of the post, any and all of our beautiful floral designs would look so pretty arranged like this. If you want to make this card as it is, here's what you will want to grab from our store: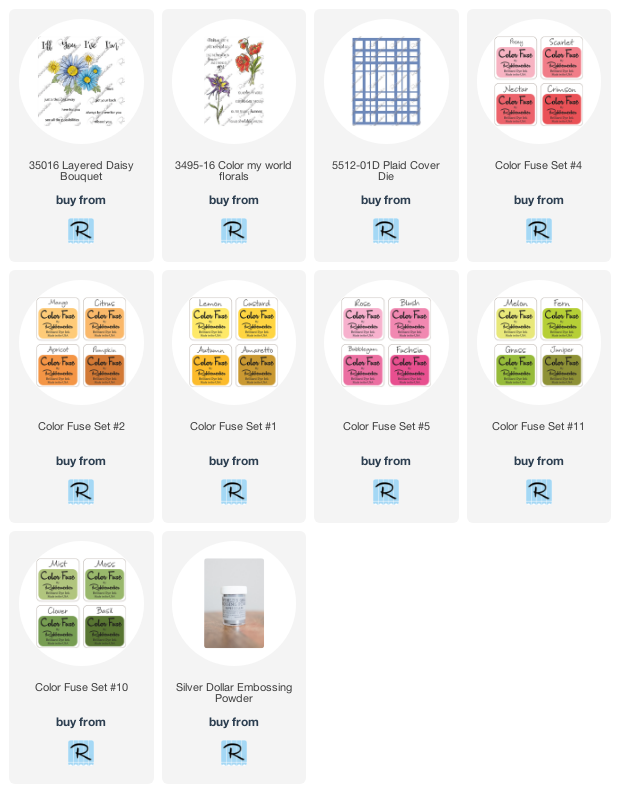 We love that this pretty Gerbera daisy card design is so versatile, relatively easy to make and can be switched up so many ways. You'll want to flag this post because this idea is a keeper!