Learn how to age a die cut with ink to add a cool, vintage element to your cards.
This card is a stunner for sure with those bright beautiful flowers set against that fun gel-print background and we love the partial lattice on which those blossoms are resting. Before we got a chance to figure it out on our own, Natasha shared this post and includes her fun and easy tips on how to age a die cut with ink. We love this look and are already imagining all the different ways this easy technique could be used. Are you curious, too? Let's dive in!
Make the Watercolor Flowers
Start by stamping the flowers you want to use from our Layered Daisy Bouquet onto watercolor card stock with VersaFine black ink and heat emboss with clear powder. As we've mentioned many times, this quick step is a great way to make sure that when you are watercoloring all your liquid stays where it should!
Color in layers when watercoloring to allow each shade to shine through and to ensure that the colors don't mix and get muddy. Paint a layer, let it dry completely, and then go back and add your next layer. Let those colors build to add all that dimension and drama!
When your flowers are all dry, cut them out with our coordinating Layered Daisy Bouquet die. Splatter the flowers with some watered down metallic paint and set aside to dry again.
Now Age a Die cut With Ink For A Cool Element
Die cut a piece of white card stock with our Plaid Cover die. Choose brown and gray inks for the look Natasha created here which has that vintagey wood vibe that marries so beautifully with her flowers. Natasha used Color Fuse Inks in Cinnamon and Pecan from Set #3 and Hearth and Slate from Set #12.
Using your favorite ink blending took, apply the inks over the die cut randomly. Because we are creating an aged look, you don't have to worry about light and shadows and just have fun adding the ink in layers, darkening some areas and leaving others less colored.
Now add some embossing glaze (which is a translucent embossing powder) or if you have powder that is close to the colors you chose, you can use that and randomly sprinkle some powder here and there to add more of an aging effect. Heat from BELOW to prevent the powder from blowing away! Reapply your Color Fuse inks and embossing powder/glaze until you have a look you love.
When you are done, to add another aging effect and double your results, tear the Plaid die cut in half diagonally. Set this aside with your flowers.
Make Your Card Background
Choose a piece of card stock, patterned paper or, as Natasha did here, a gel print from your stash. Add some textural interest with our Script Background and Distress Background Strips stamps and using the "finger block" method, use your hands to apply your gray ink shades to the background panel randomly and unevenly.
Then using more of the gray inks and more of the embossing method used on the die cut, distress the edges of this panel. Remember, uneven application and "flaws" are part of the impact and charm on this project!
Finish Your Handmade Card
Using the same black ink, stamp your sentiment in the upper right hand corner of your background panel.
Adhere this panel to your card base with tape. Line up your antiqued die cut piece with the bottom and adhere that with some liquid glue. Arrange your die cut flowers over the card and when you like what you see, start adhering them with a variety of flat and dimensional adhesive to create a scene with some depth and dimension.
As a final touch add a few sequins to echo the splatters and your card is ready to wow someone!
Here's what you will want to grab in addition to the linked products to make this card: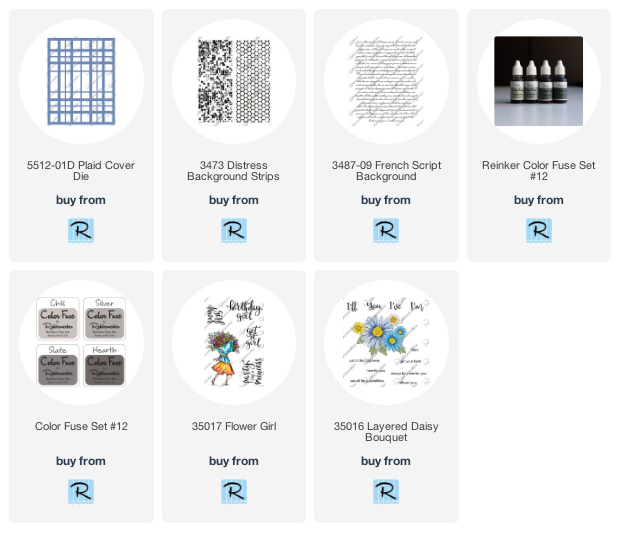 We think this way for how to age a die cut with ink is super fun and are already thinking about other ways to use a simple inking and embossing method to make more cool, vintage, antiqued, well loved elements for our cards!