You have to check out how easy and fun it is to make this multi media card background loaded with textural details!
Many people think that making a multi media card background is super complicated and requires a boat load of supplies. While you certainly CAN do all that to make card backgrounds, today Carol is sharing some easy and downright fun-to-do tips for creating something that is just loaded with details, texture, depth and color. Let's dive right in!
Start by creating that multi media card background with some basic supplies.
Trim a piece of watercolor paper to 4″ X 5 ¼". Drip some Lemon Color Fuse Ink from Set #1 from the re-inker bottle onto a silicone mat. Roll your brayer through the ink repeatedly to get a nice even layer. Now roll it randomly over the watercolor paper. You are not trying for even, edge to edge coverage of the paper; applying the ink unevenly helps to create that delicious depth and aging that adds so much visual interest to the final creation.
Repeat this process with Autumn Color Fuse Ink from the same set. When you've applied these base layers of ink, set this aside to dry thoroughly or use your heat tool to speed this up.
Now ink up our French Script Background stamp – now available as a clear stamp as per all your requests! – with Amaretto Color Fuse Ink from Set #1.
Using your fingers (instead of a block), randomly apply the stamp to your inked panel. As we mentioned in this post, stamping using your fingers creates uneven pressure and adds to that uneven look that adds all that beautiful texture to an otherwise flat surface.
Now to add a little tangible texture, lay our Leaf Stencil over this panel. Carol says she uses Pixie Spray on the back of the stencil for a great way to hold down this delicate stencil. Use a palette knife to spread some texture paste over the stencil on opposite corners (not over the entire surface). Again, this irregular application of all these different components creates tons of visual interest and keeps the brain engaged in all the fabulous variances.
And as a huge bonus, the white texture paste will absorb some of the pigments from the yellow inks on the paper and add even MORE visual texture. This card just keeps on serving up awesome details!
While the paste is still wet, sprinkle over some glitter here and there. Gently pat the glitter into the past to ensure it settles in and sticks.
Set this aside to dry completely while you make your focal elements.
Make your floral detail elements.
Using the images from our new Layered Daisy Bouquet, stamp the outline elements you want to use onto white card stock with black ink. PRO TIP: Use a stamp positioner and rotate your paper to stamp multiples so you can speed up the stamping.
Using the included layering guide to help you choose your colors, stamp the colored layers of the flowers and leaves with your favorite Color Fuse sets. Carol used the shades from Color Fuse Set #7 for the flowers and Set #10 for the leaves. Cut your images out with our coordinating Layered Daisy Bouquet die set.
Build your card.
Adhere your now completely dry multi media card background to a white card base with some thin dimensional adhesive.
Incoming – a fabulous PRO TIP: arrange your flowers and leaves on the card to your liking. Now, instead of trying to remember where each piece went or trying to adhere them without moving the others, lay a piece of Press N Seal wrap over the arrangement. Firmly press the wrap over the die cut elements and lift it off and place it face down on your table.
Add your adhesive to the backs of your die cuts, making sure you put some on each piece. You can, as Carol did, use a mix of tape and dimensional adhesive to build in some depth. Just make sure each piece has some adhesive on it so it doesn't fall out of line or make note of the most foreground pieces that may need some additional help.
Pick up your piece of wrap and flip it back over and lower onto your card. Gently press to make sure all the adhesive makes contact and, if using any liquid glue, wait a bit to make sure it's taken hold. Gently peel off the wrap.
Take a quick peek to make sure everything is stuck in place and add any more adhesive if needed. Take a moment to admire your work!
Add your card sentiment.
Choose which sentiment you want to use – Carol used one from the same stamp set – and stamp it in black onto a scrap of white card stock. Trim it closely and add to your card with some foam tape, letting it touch or overlap your die cut elements a bit to add continuity.
We know this makes you want to play! Here's what you will want to have on hand or add to your cart so you can make this stunner, too: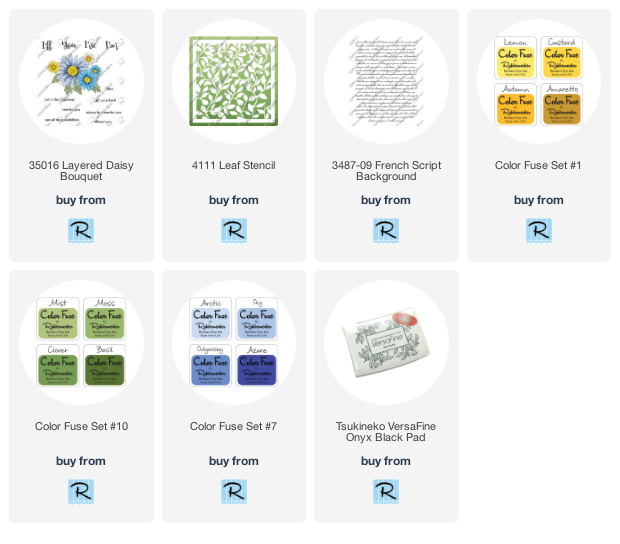 This card is proof positive that making an incredibly detailed, rich and gorgeous multi media card background is 100% doable! Give it a try and see what you come up with!