Check out what alcohol ink on die cuts can do to add some cool effects to your cards!
"Oh please can we make this really awesome effect so much hard to make?" said NO card maker EVER! Today's awesome mini-technique of using alcohol ink on die cuts to add tons of interesting texture and details is one that we know you all will want to bookmark.
Just LOOK at those hills in this background! Do they not almost look like photographic die cuts? Jean is here today to show us how to use alcohol ink on die cuts to create an effect that looks so real and is something we can see used tons of different ways on different cards.
We will note that Jean used Yupo paper on this card and that material certainly helps achieve the look that makes those hills look so great. Yupo paper is a synthetic paper that does not absorb liquid, hence its popularity with alcohol ink techniques. If you don't have any of this material around, we have a super secret little tip for you. If you have any metallic coated card stock around, that will make an excellent substitution! (You can also use acetate, vellum or glossy photo paper; the ink will blend a bit more on those surfaces but the effect is still gorgeous.) The coated metallic card stock will prevent the alcohol from fully blending and will give you those lovely crisp edges from moving the alcohol ink around. So dig in your stash because you probably have some of this in there!
Now to the card!
Jean applied her earth colored alcohol inks to her Yupo paper and then used our Southwest Hills die set to cut the double and single buttes out of it. You can cut your shapes from your chosen material and then apply your inks over them, using a colorless blending solution and a blow dryer to move the ink around on your die cuts to get the look YOU want.
You can see how this fun and easy technique can open up a whole world of colorful detailing and ink layering to give you lots and lots of dimension!
Jean then use the same die set to cut her ground tan card stock and then sponged some dark ink along the edge for added dimension.
She layered her die cuts over a light blue card base and when she liked the arrangement, adhered them down.
Next Jean used our Beach Van die set and used white, dark teal, gray, black, and silver foil card stock (AH-HAH – you knew you had some!) and assembled all the little parts and pieces using liquid glut. Did you know that we have a little assembly guide on the product page for this and other highly detailed die sets? We figured if we were going to add all those delicious details to the die sets, we wanted you to know what everything did!
Then, because clearly when you take a road trip to such a beautiful place, you want to chill, Jean stamped the "Relax" sentiment from our Mini Simple Sayings set in black on white card stock and cut it out with the largest shape in our Clouds die along with the additional clouds.
While she had her die cutting machine at the ready, Jean cut some cacti from green card stock with our Cactus die and her sun from our Sun Moon die from yellow. Using more yellow scraps, Jean used our Tiny Flower Buds die to cut some blossoms that she added to her cacti with tiny dabs of liquid glue.
Now Jean added her cacti and sun to her scene with tape and her van and clouds with dimensional adhesive.

How FUN is this card? The addition of the alcohol ink on die cuts for the background adds that very Southwestern feel with the different layers of stone and then the simple but detailed design of the van in the foreground really give you that scenic feel.
Here's what Jean used from our store to make this awesome card: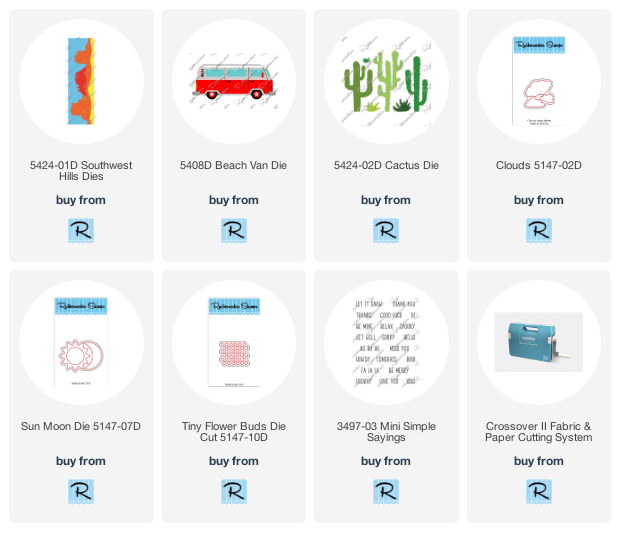 Has this convinced you to try using alcohol ink on die cuts on your cards? We do love the look that Yupo paper gives and now you know a few alternatives to try out. We'd LOVE to see what you come up with so don't be shy about sharing on our Facebook Fans page!