Check out a fun way to find color design inspiration for cards!
Do you have a favorite method to find color design inspiration for cards? There are beautiful color combinations everywhere and today Colleen is sharing one of the ways she finds colors she wants to use on her projects.
Colleen says "I was inspired to create this card using the mood board below. I enjoy combining color, composition and texture to my cards, and this mood board really inspired me with its rustic walls and colorful door!" Let's take a peek:
You can see right away how those bright pops of tomato red and the pretty teal play off those warm sandy shades in the background. Because red and green are opposite each other on the color wheel as are blue and orange, combinations of red and orange and then blue and green create that irresistible pairing. And setting those against a background with lots of distressed, weather worn looking layers add tons of visual impact.
Let's get all the inside scoop from Colleen so we can make this card too!
First, make the textural background.
Apply Caramel Color Fuse Ink from Set # 3 directly onto a piece of acetate and spritz with water. You can apply the ink by either swiping your cube over the surface or, now that all of our Color Fuse shades are available as refills, just add a few drops.
Gently lower your acetate onto a piece of watercolor paper and let it sit in place for about 10 seconds – long enough for the ink to settle into the fibers of the paper. Carefully peel the acetate off to avoid muddying those beautiful textural spots.
Repeat this process several times until the panel is about 75% colored. It's preferable to leave a little white space on the surface to enhance the texture and shadowing. There's no such thing as "perfect" when you are doing this fun technique!
Now for some added detail, apply just a little Cinnamon Color Fuse from the same set onto your acetate, spritz and then apply over your panel. Repeat, adding the darker shade just here and there to add more depth and shadowing.
Allow the panel to dry completely – you can use your heat tool if you wish to speed it up. Wipe off your acetate with a tissue and set aside for the moment.
Now take our Stained Glass stencil and lay over the panel. Using the Caramel ink again, use a blending brush to very lightly add the design to only the upper left and lower right areas of the card. This will create a "flow" for the eye to enhance all your design elements.
Using one of the paragraph stamps from our Splatter Stains set, apply Cinnamon Ink to the stamp and using your hands instead of a block, add some uneven text over your stenciled areas. PRO TIP: Applying a stamp this way, with your fingers instead of an even surface, gives you instant variegation in the final images, creating a distressed look with no extra effort.
Last, ink up one of the splatter dot stamps from the same set in Cinnamon ink and stamp around the upper left and lower right corners. Set your panel aside while you make the flowers.
All of this layering, from lighter in the back to darker at the surface, creates that gorgeous, rich, almost-can-feel it distressed look.
Make the beautiful focal elements:
Stamp each of the flowers and leaves from our about-to-be-released Daisy Daydream stamp set with alcohol friendly black ink. Color them in with shades of orangey red and jewel-like teal using your favorite alcohol markers. When you are done coloring, cut them out with our coordinating die.
Using our Fancy Decorative Nesting die set, use the middle sized die to cut a piece of white card stock. Using a blending brush, apply Orchid and Lilac Color Fuse Ink from Set #6 to create an uneven, distressed layer.
For your sentiment, stamp your phrase – Colleen used one from Daisy Daydream – onto a scrap of white card stock and trim to a crisp rectangle.
Assemble your masterpiece:
Adhere your background panel to a card base. Adhere your purple die cut layer to the background at a diagonal. Arrange your flowers and leaves over the purple layer, tucking them under and over each other to create a unified swag. Adhere with tape runner or liquid glue.
Add a few drops of Lilac Color Fuse to your acetate sheet or swipe with your cube and add just a touch of water. Use this mixture and a brush to add splatters over the entire project. This will unify all the elements and add just a splatter "shadow" over the flowers. Clean off your acetate again and save for future use.
Add the sentiment to one side with dimensional adhesive. Add some glossy accents to the flower centers and allow to dry thoroughly.
We know that we will use this amazing tutorial for that delicious background again and again and are already looking at other color combos to use with this same look. Here's what Colleen used today if you are itching to try it out! (Remember, Daisy Daydream doesn't go live until Tuesday, Monday if you are a Gold Status Member).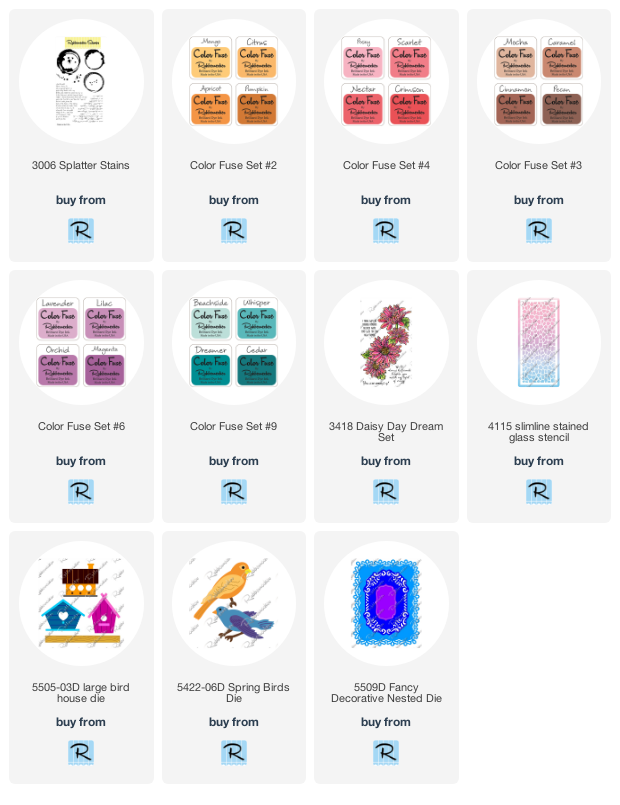 Are you now thinking of all the other ways you can collect color design inspiration for cards? This shows you that anything that appeals to your creative heart can be turned into something uniquely yours!