How fabulous is this quick and easy card made with die cuts and layered for a peek-a-boo look?
Every once in a while you "meet" a card whose design is so simple and so easy but has so many possibilities that it takes you a moment to realize what a gem you have on your hands. This quick and easy card made with die cuts is one of those.
Want to see how just fast and easy it is? Check out these super simple steps.
First, take a card panel sized piece of white card stock and run it through your die cutting machine with our Floral Swirl Pierced Cover die. Adhere to your card base with your tape runner.
Using our Stackable Flowers and Leaves #3 die, cut two shades of pink, one yellow and one or two shades of green to create an assortment; assemble with liquid glue.
Adhere to your card randomly.
Cut another piece of card sized white card stock with our Lattice Cover Die and adhere to the card front with small piece of dimensional adhesive at the edges.
Stamp your sentiment onto a scrap of white card stock, trim to a rectangle and mat with a scrap of pink card stock; adhere to the card front with more dimensional adhesive.
You're done! Does it get much easier for this amount of "Wow!"? You can use ANY design motif, any colors and any sentiments and always end up with a card that looks way more involved than it is to make.
Here's what Allie used today – grab what you don't have so you can make these stunners: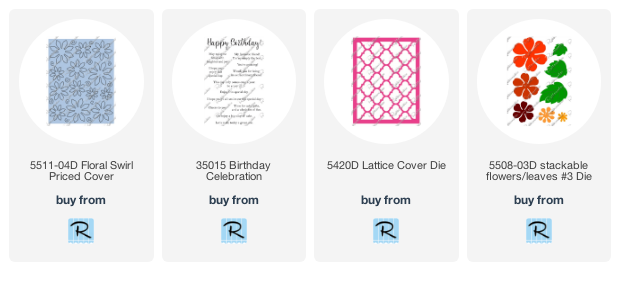 You will for SURE want to save this idea for a quick and easy card made with die cuts so either bookmark this post or save it on Pinterest so you can have it right there when you are browsing your inspirations!