Today's stunning purple fall card with pumpkins – also purple! – is so glorious and is a fun twist on a traditional pumpkin greeting card!
Today Sammi is paying homage to her favorite color – purple. Her purple fall card with pumpkins also done in glorious shades of purple is such a beautiful twist on your standard fall pumpkin card and we love it!

Let's let Sammi share how she made it and we will pop back in at the bottom of the post to rave.
First I stamped the Fall Twig Background stamp with Magenta Color Fuse Ink from Set #6 and cut it down to a A2 size.
Next, I used the Paver Cover Die to cut dark purple cardstock and dark green cardstock.
I adhered them together, off-setting it so the green will appear behind the purple. You can see this best in this image. I adhered the whole assembly to a white card base.
PRO TIP: This adds a pop of color that echos the greens I will use in the leaves. This is also a great way to add a shadow or highlight to a background. I adhered this piece over my stamped background.
I then took inks from Color Fuse Sets #6 and #10 to make a background for my leaves. I placed some ink onto my glass mat and spritzed it with water and then "smooshed" a piece of cardstock onto the ink until I got the desired effect I wanted. PRO TIP: This ink spritzing and smooshing is a an excellent way to add a textural look in the colors you are using with very little work and lots of impact.
After heat setting it. I cut out four leaves using the Leaf Trio Die.
Now I stamped the three pumpkins in the Fall Pumpkins set with hybrid black ink and cut them out with the coordinating dies. I then colored them with these Copic Markers.
PRO TIP: I "flicked" when I was coloring to add some great dimension and bring the curve down into the pumpkins.
I stamped the sentiment from the Splatter Leaves stamp set and cut it out with a circle die. I arranged my elements to make sure I was happy with the placement and adhered them to the card. I used my tape runner to add the sentiment, the pumpkins with some foam tape adhesive for some depth and then tucked the leaves in an around them with more dimensional adhesive.
I then glued the sentiment onto the card panel and then I placed the pumpkins onto the card panel with foam tape and then placed the leaves behind the pumpkins using foam tape. I love how this card turned out and hope you do, too!
Rubbernecker here – Yes, we do! That gorgeous royal purple is an unpredictable but very welcome change to the traditional shades we see in the fall!
If you want to recreate this card, here's what you will want to grab from the store: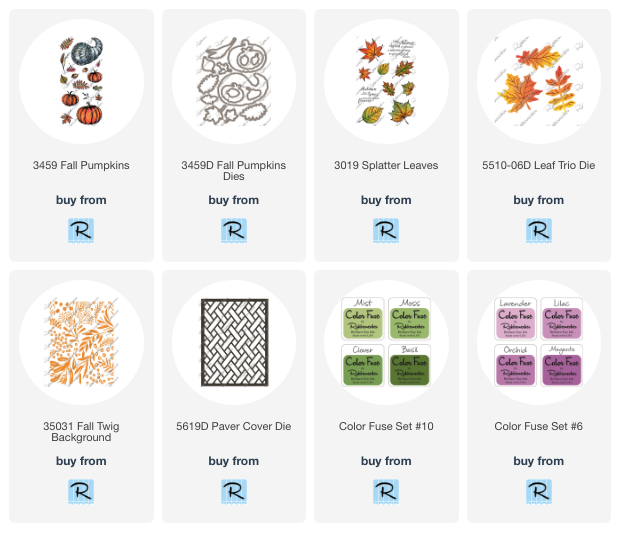 We hope this purple fall card with pumpkins inspires you to try out some unexpected colors and see what magical and amazing looks you can create!