Get some great PRO TIPS on how to ink card backgrounds to create a delicious moody night sky!
Today Ricky is sharing his great tips for how to ink card backgrounds to create this beautiful dark, delicious night sky on his take on a spooky Halloween card. He's sharing lots of great pics so we can see exactly how easy it is to create this look with our Color Fuse Inks. Let's dive right in and get to the fun part!
First, Ricky traced the circle from our Bats and Trees Stencil onto a piece of masking paper to make the moon and cut it out. He placed this on a card sized panel of white card stock. PRO TIP: To give the scene great visual impact, be sure to place your moon high and off to one side.
To create that beautiful depth, Ricky used blues and purples as his base colors for his inked background. For the blues, Ricky used Color Fuse Set #7 and for the purples he used Color Fuse Ink Set #6.
Starting with Arctic, Ricky blended the ink around the moon.
He then moved to the next darkest shade, Sky, and applied that a little further out around the moon. He repeated this with Odyssey and then ended with Azure in the furthest corner. Here's what the panel looks like once the blues are applied.
He then repeated this process from lightest to darkest with the purples, starting with Lavender. Here you can see how the light purple is blending beautifully with the lightest blue.
Here it is with the Lilac applied.
Now the Orchid – see how those colors are melting together? And the blues in the back create that moody light that adds some real depth to that sky!
Here it is completed with the Magenta. Just gorgeous!
Now, before splattering his panel with some white ink, Ricky used Distress Oxide Black Soot ink and rubbed it over the panel, with a heavier hand at the bottom and up the sides.
Just look at what those simple splatters do for this look!
Ricky removed the mask from the moon and using the stencil, added his craters using Chill and Silver Color Fuse Inks from Set #12.
Now he placed the stencil so the tree was lined up with the lower corner and applied some black paste to create the fabulously textural details. After letting the tree dry THOROUGHLY – you don't want to smudge your tree! – he repeated this application with the bats, ensuring that a couple of them were positioned over the moon for some great contrast. He set this aside to again dry thoroughly.
While his bats were drying, Ricky stamped his sentiment – this from our Pumpkin Dress Up Set – with Versamark onto black card stock and heat embossed it with white powder.
Now Ricky cut his card panel to 4″ X 5 1/4″ and matted it onto black card stock. He adhered this to a card base. He trimmed down his sentiment strip and adhered it to his card with some dimensional adhesive.

Now, how awesome is this card? Right? And that incredibly rich background is just ink!
Here's what you will want to have on hand to make this card: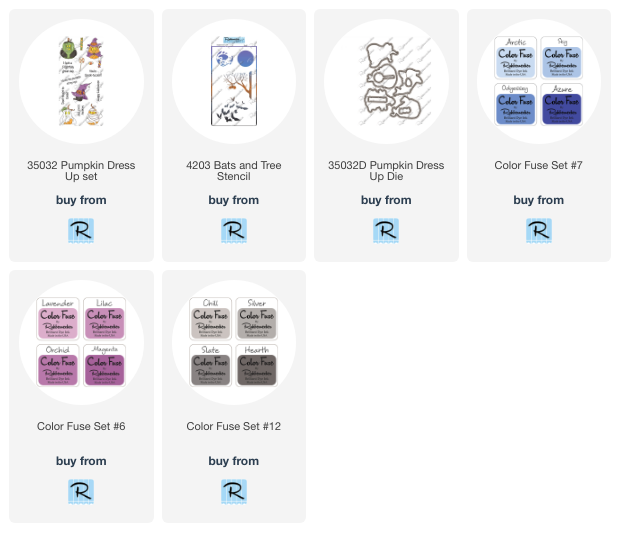 There are lots of ways to use this technique for how to ink card backgrounds – imagine all the color combos you can use to create that depth and velvety look. Grab your favorite Color Fuse Ink Sets and see what looks you can create!