Come see a gorgeous quick and easy fun fold thanks card that you can make in just minutes!
Sometimes we need a reminder that simple can be breathtaking. Today's quick and easy fun fold thanks card is just so pretty, is so incredibly versatile, fast enough to be an ideal batch making card yet can be made so quickly and economically. We just love this design from Jamie and are bookmarking this for when we need something that has that special look and feel but is something we can get done fast.
Let's go through the steps so we can see how and where we can customize this terrific design.
Cut a piece of of card stock to 4 1/2″ X 11″ and fold in half. Now fold the top back on itself to form a half sized top. Jamie chose a rust to complement the colors in her patterned papers.

Choose two patterns from any of our Paper Pads. Jamie is using some from our Snowy Wonders by Kittiekraft 6 X 6 Paper Pad. Trim the pieces to fit the inside of the card and the topmost flap of the cover. (PRO TIP: This can be a great way to use any leftover pieces of our patterned papers that you might have. Fit them to the flap and then just make sure you borders when you trim the paper for the inside of the card are the same for a cohesive look.)
Stamp your sentiment onto white card stock using colors that complement your design. We love Jamie's choice of rust and pale blue! Trim this down to whatever size and shape you like and mat onto the same color card stock as your card base.
Jamie added her darling detail by fussy cutting one of the pine cones from a scrap of the patterned paper she used on her card front and added it to her sentiment panel. Embellish your design in any way you like! Jamie then added some Stickles details to her sentiment piece.
When her Stickles were dry, Jamie adhered her sentiment piece to her card, adhering it onto her left side card front only.
So simple but SO stunning!

If you haven't snapped up our Thanks set yet, we encourage you to take a good look at all the sayings that are included. This stamp set is one of our leading "LBD" (little black dress) sets because it is absolutely indispensable and totally versatile for any kind of thank you card.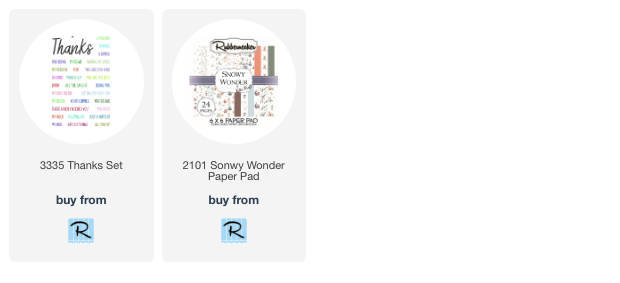 Can you see why we think this quick and easy fun fold thanks card is a practically perfect design? There is no end to how you can customize this fast and simple card!