If you love our inks as much as we do, then this Rubbernecker Color Fuse Christmas card design is going to make you SO happy!
Our Color Fuse Ink has gained a well deserved reputation for being some of the very best ink for stamping out there. People tell us all the time that they love the color families, the fact that the shades and the formula of the ink blend so beautifully and that their impressions last so long. Today's Rubbernecker Color Fuse Christmas card shows off all of those features in one beautiful design.
Sammi says "I love making Christmas cards and when I saw the Bells and Garland stamp and stencil, I fell in love! I imagined a night sky with a silver bell." Did she not create that beautiful look with this new set and our awesome inks?
Let's get the details on the making of this gorgeous card!

First, stamp the image fro our Bells and Garland twice on your smoothest white card stock. Sammi says "I always use Hammermill when I am ink blending because it is a very smooth card stock."

For the silver bell, use Chill Color Fuse Ink from Set #12 for the outside edges.
And then Slate Color Fuse Ink from the same set for the center.
Now ink up the berries and the bows with Crimson Color Fuse Ink from Set #4.
And now the leaves – start with Basil Color Fuse Ink from Set #10.
And then add the details with Mist Color Fuse Ink from the same set.
When you are done adding your gorgeous shading with these fabulous stencils, cut out both images with our coordinating die.
Now for the background, cut a piece of white card stock with our Mini Slimline Cover #2. Using Sky, Odyssey and Azure Color Fuse Inks from Set #7, blend these over the die cut panel from lightest at the bottom to darkest at the top to mimic a night sky.
When you are done, splatter some white ink or acrylic paint over the panel for a snowy look. Set aside to dry thoroughly so you don't smear your snow!

Stamp your sentiment onto a scrap of white card stock with the same Crimson Color Fuse Ink and trim this down to the same width as your die cut panel.
When your snow is all dry, trim a piece of red card stock to the same size as your die cut panel and adhere it behind to let the red peek through. Adhere your sentiment layer over your card front where you'd like it. Now lay your garlands over your piece to your liking and pop them on with some foam tape adhesive. Use your paper snips or trimmer to trim them to the edges of your card front.

Adhere your whole assembly to a mini slimline card base and adorn with some red pearl embellishments.
Isn't that just so beautiful? The bold blue with that classic red and green…..it's so iconic but still fresh and energetic.

Here's what you will want to grab if you want to make this card: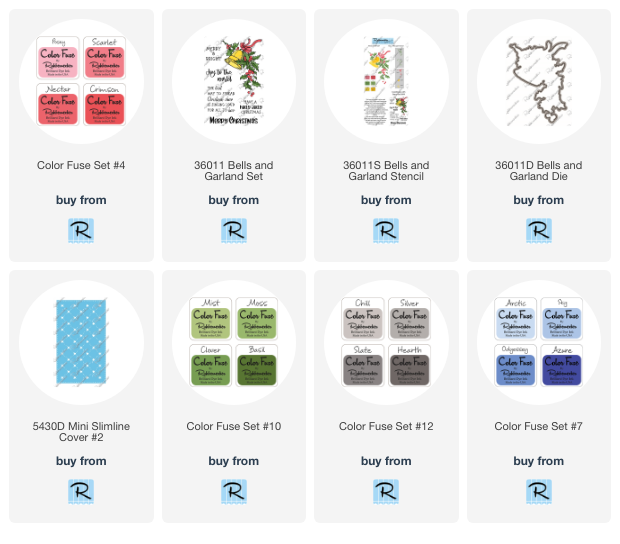 We can see this particular Rubbernecker Color Fuse Christmas card becoming a perennial favorite. The stencils make it easy, the color families make the inking a breeze and the dies make quick work of the details. Could this be your holiday card?